Watch: 100 Synchronized Drones Put on a Light Show Above Mojave Desert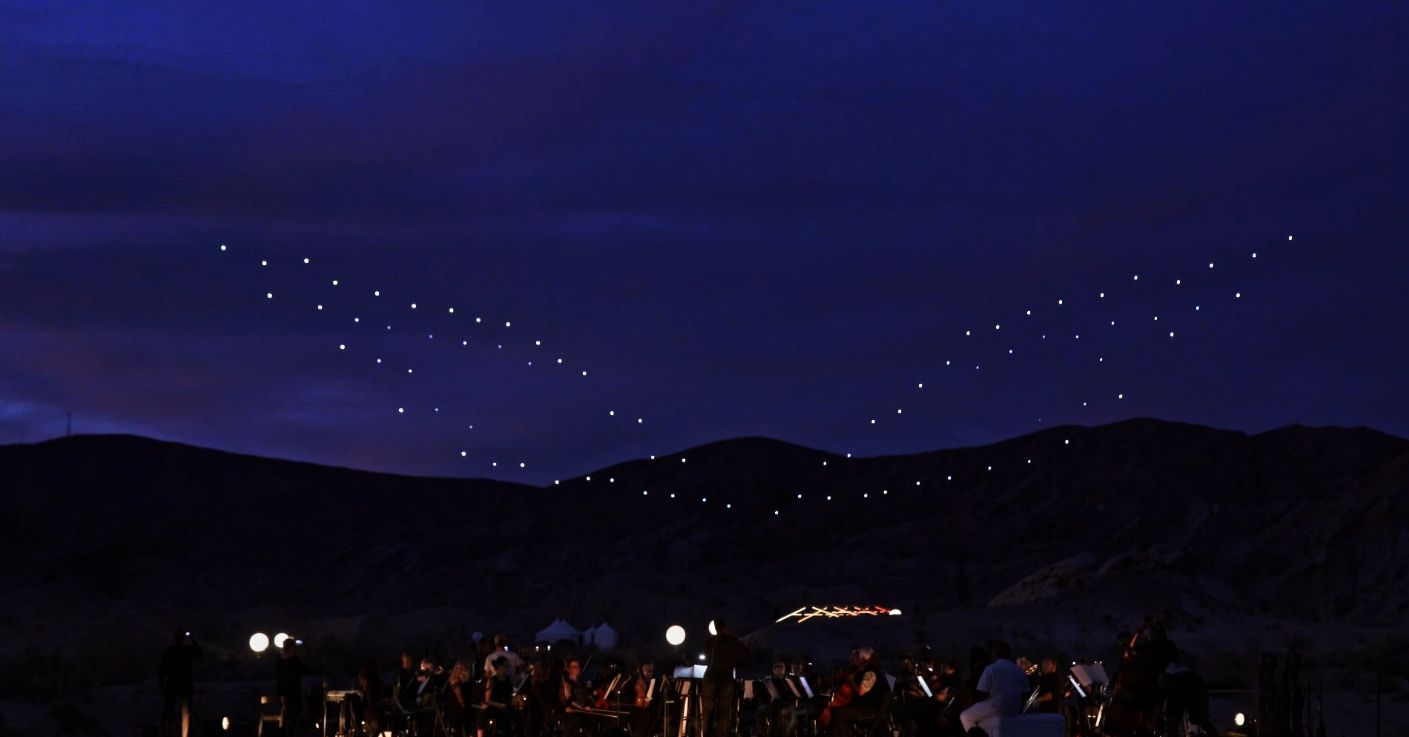 Are hobbyist drones the new fireworks in future Fourth of July celebrations? Intel released a video on Wednesday showing a fleet of 100 neon-lit drones in the night sky above Palm Springs, California, flying in formations and twirling around hundreds of feet in the air.
Flying above spectators gathered in the Mojave Desert, the drones were hovering to form shapes, like a cylinder or a pair of wings, and changed their colors from red to green to blue repeatedly.
Intel says that no other individual or company has received federal permission to fly so many drones, let alone put on a light show with them.
The Federal Aviation Administration (FAA) controls the national airspace, policing how and when anyone can fly drones. It sparingly hands out exemptions to Section 333, which limits one pilot for every drone. An FAA spokesperson tells Newsweek that Intel was the first entity to receive Section 333 exemptions for multiple drones per pilot.
Intel's project was released on the same day that FAA Administrator Michael Huerta allowed schools and students to bypass applying for Section 333 exemptions so they could drones as long as they followed federal rules. In addition, Huerta launched an advisory committee to recommend regulatory solutions for drones in the future, and he appointed Intel CEO and drone enthusiast Brian Krzanich to chair it. An Intel representative tells Newsweek the video and the announcements had no relation.
"With Intel, I think you are experimenting with events like this where we really start to stretch the limits on how you control a hundred robots in the air," Krzanich says in the video.
Krzanich says that he hopes to increase the number of drones in light shows of the future from 100 to 1000. He believes that drone shows can be performed above stadiums or parks.
In November 2015, Intel did a near-identical Drone 100 performance in Germany, in which drones lit up in harmony with Ludwig van Beethoven's Fifth Symphony.