Watch: Adorable Elephant Calves Try to See Off Safari Tourists
Two adorable elephant calves tried out their tusker skills to confront a tourist safari at a South African game reserve.
Delighted tourists at the Kapama Private Game Reserve in the Kruger National Park in the Limpopo Province of northeastern South Africa, watched from safari vehicles as the pair confronted them in the bush.
The first elephant calf can be seen in the footage running up with its trunk raised and its ears spread wide, a classic elephant warning sign for a charge. But it stops short of charging the vehicle.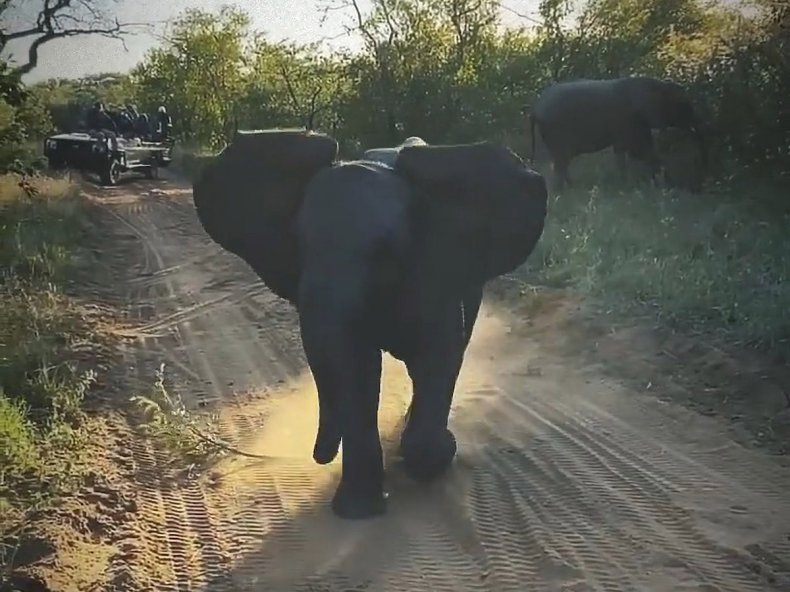 Then a second baby elephant can be seen in the footage running onto the track with its ears flapping and trunk tooting to support its herd member. It too stops short of charging the safari vehicle.
After a few moments, the playful pair's nerve seemed to fade and they turned tail and ran over to a much larger elephant who appears to be their mother.
The adorable encounter was filmed by a guide named Ebenezer Rhode, 29, on June 18.
He posted the clip on his "Ranger Ebz" Instagram page last week where it has been widely viewed by wowed wildlife lovers.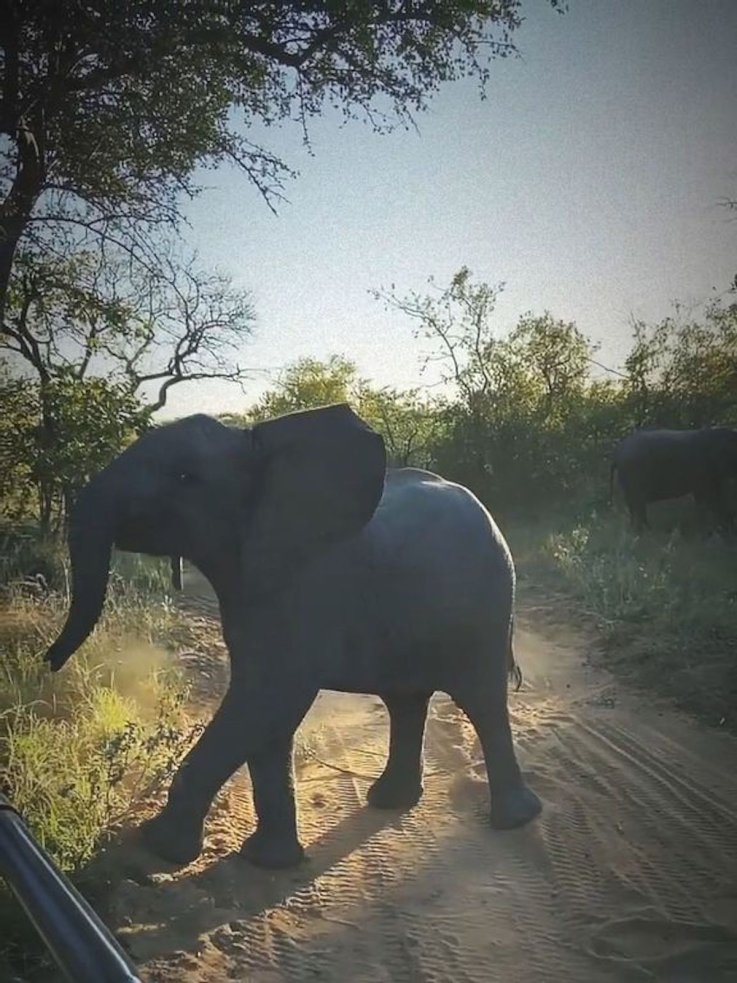 First-time safari-goers encountered curious young elephants on June 18, 2022, at the Kapama Private Game Reserve in the Kruger National Park in Limpopo Province, South Africa.
@ranger_ebz/Zenger
Rhode, from Mossel Bay in the South African province of Western Cape, is a "field guide at Kapama Private Game Reserve."
He describes himself as a "very passionate wildlife videographer who likes to capture wildlife videos."
He shared the clip with the message: "Very curious young elephants giving us a lot of fun on a recent safari for first-time safari-goers."
Rhode told Zenger News in an exclusive interview: "I've been actively guiding for about seven years, but I've been on a game reserve since October 2012."
He explained that no tourists were at risk of being hurt by the elephant herd in his video.
He added: "At no stage were we in any danger because we were observing the young ones, but we also remained focused on the adults in the group."
Rhode also said: "There was enough space for us so we were not cornered in by the elephants at all.
"With elephants, the young ones are often playful and mock charge the vehicles to build confidence."
Rhode said: "Also, they are not that used to cars so it takes them a little time to get used to the vehicles, but the animals' behavior often shows you what they want to do."
This story was provided to Newsweek by Zenger News.