Watch Adorable Golden Retriever Refusing to Leave Park: 'Always a Struggle'
A golden retriever refusing to leave a doggy play center is making TikTok users smile.
The hilarious clip was shared by user Iza Dolores (@akithegolden), and shows her attempting to wrestle her stubborn pup Aki out of a playhouse.
She starts by gently grabbing one of the retriever's legs, to try to maneuver him off the ledge. However, Aki puts up a fight, so Dolores tries a different tactic. She hooks her arms under Aki's pits and tries to pull him forward. In response, the 2-year-old pooch firmly plants his back paws and refuses to move.
"Always a struggle," Dolores wrote alongside the cute clip, which has received 1.3 million views and over 120,000 likes.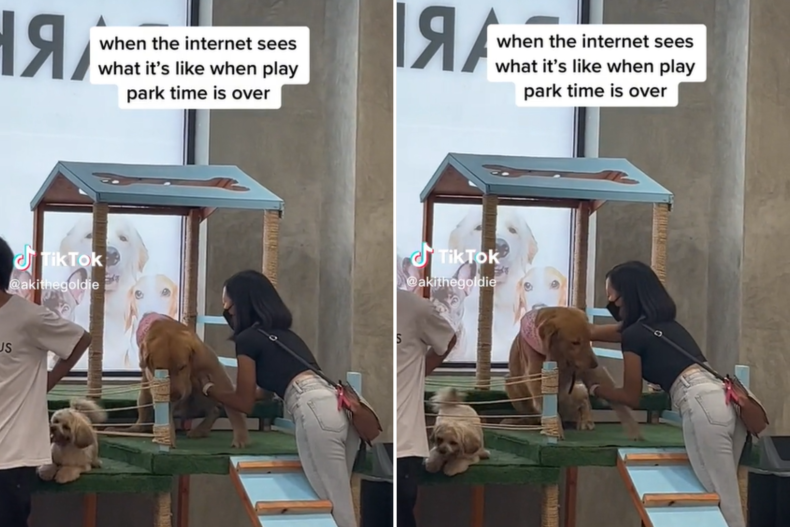 How Do You Get a Stubborn Dog to Move?
If you have a strong-willed canine that refuses to budge, Leigh Siegfried—owner of dog-behavior trainers Opportunity Barks—said your approach could be to blame.
"If your dog is uncomfortable, for example, if you're pulling them, they may engage their opposition reflex," Siegfried told Newsweek.
"If they're not prepared to be handled, they'll freeze up. It's like when owners pull on a leash to restrain movement, but the dog doesn't understand and fights against it."
Instead, Siegfried suggests standing a short distance away and "inviting" your dog to towards you. This "prepares" the dog for handling.
If this doesn't work, tempting your dog with treats is also an option, as is training to help improve communication between you and your pet.
'Just Like a Child'
Dolores told Newsweek that Aki visits the dog park once a month, and every time, it's a struggle to get him to leave.
"Aki is our only furbaby at home, so he does not always get to play with other dogs. He knows the play park is a special place and wants to stay there as long as possible," Dolores said.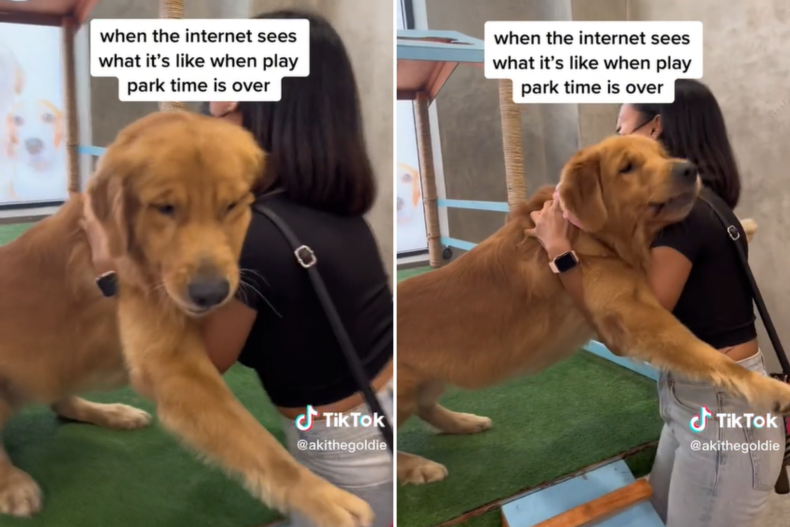 In the end, Dolores distracted Aki with treats while her partner picked the dog up and carried him away.
When he's not causing trouble at the play park, Dolores describes Aki as a "very sweet and playful" dog.
"He loves to play with his toys and brings them everywhere in the house," she said.
Fellow dog owners could relate to the TikTok footage, with Blondedawn writing: "Why are goldens like this?"
"My dog does this, he goes dead weight if he doesn't want to do something," posted Danyella.
"Just like a child," wrote user5768280882717, while Michelle Cady asked: "Did you give a five minute warning?"
"'NO MOM, I STAY HERE,'" commented hollidaymarie, while MariMari wrote: "If this baby could talk, she would be screaming 'Help!!! Stranger, danger! I don't know this lady!'"
Kinsley posted: "I know that struggle all too well!"