Watch: Ahead of Trump's UK Visit, Sky News Releases Ad Showing Trump as Giant, Looming Balloon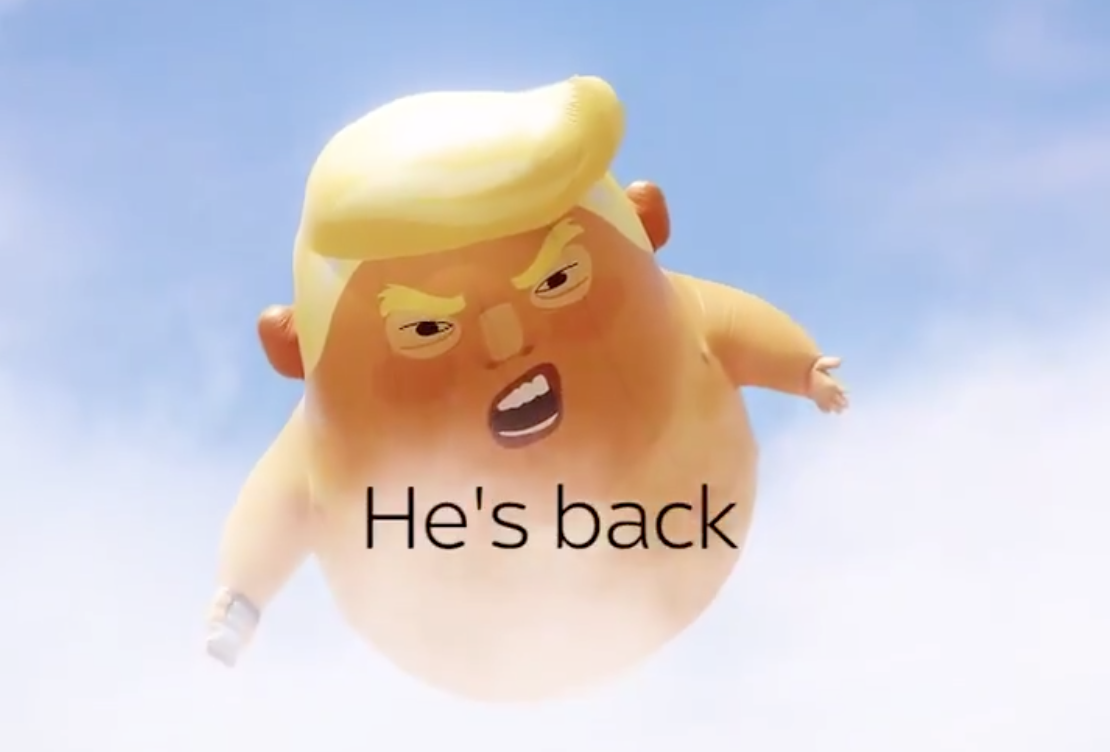 President Donald Trump is gearing up for a visit to the UK next week to commemorate the 75th anniversary of D-Day, and the British press appears to have taken notice.
Sky News, a British news organization formerly owned by Rupert Murdoch and now owned by Comcast, posted a brief video Friday that advertises a broadcast of Trump's state visit. To put it mildly, the clip takes a rather dramatized approach in depicting the commander-in-chief's upcoming travel plans.
Set to an ominous musical backing track, the video shows a looming Trump balloon roaming the sky, casting a long shadow over the British monarchy and darkening the city of London. The balloon is made wholly visible only in the final few moments of the video, appearing as a cartoonized version of Trump scowling, mouth agape, with a shock of yellow hair. The comical rendering is not unlike the Trump Chicken and other hot-air balloons that have dotted the skies at stateside Trump protests.
"He's back," the video warns, before offering up the stream's viewing schedule.
The clip arrives amid speculation that Trump will be met with a frostier reception than those received by his predecessors. During the three-day visit, the president will meet with outgoing British Prime Minister Theresa May, as well as several members of the royal family, including Queen Elizabeth II; but he will not stay in Buckingham Palace, which temporarily housed presidents Barack Obama and George W. Bush, due to ongoing renovations, and he is not scheduled to speak in Parliament. Officials on both sides of the pond have downplayed rumors that there is anything unusual about the visit.
The trip arrives at a fractious moment for the UK: The country continues to grapple with its decision to leave the European Union, and, on May 24, May formally announced her resignation. In the last week, there's been a mad dash by at least a dozen of her fellow conservatives to replace her as head of the party—and, subsequently, as prime minister—after she leaves office on June 7.
Trump weighed in on the matter on Friday, giving an impromptu endorsement of the divisive and controversial populist Boris Johnson.
"I think Boris would do a very good job," Trump said during an interview with The Sun. 'I think he would be excellent."
In that same interview, he called Meghan Markle, the Duchess of Sussex, "nasty" over criticism the American-born member of the royal family delivered in 2016. At the time, she called Trump's candidacy "divisive" and "misogynistic."
"I didn't know that," he said, referring to her remarks. "What can I say? I didn't know that she was nasty."
He then cushioned that statement by saying it was "nice" that the U.K. has an American princess. "I am sure she will do excellently," he said.