Watch Alex Trebek's Thanksgiving Message Recorded Before His Passing
Hit game show Jeopardy! released a sweet pre-recorded Thanksgiving message from Alex Trebek, the beloved host who died from pancreatic cancer earlier this month at 80 years old.
"High on our list of things to be thankful for this year: Alex's Thanksgiving message from today's show," the show shared on its Twitter page. "We hope you have a safe and happy Thanksgiving!"
The video shows Trebek on the iconic set of the game show, which he hosted for 37 seasons—from its revival in 1984 until his death this year. In his message, he notes the positives among the devastating effects of the coronavirus pandemic experienced across the world.
"Happy Thanksgiving, ladies and gentleman," Trebek said. "In spite of what America and the rest of the world is experiencing right now, there are many reasons to be thankful. There are more and more people extending helpful hands to do a kindness to their neighbors, and that's a good thing."
"Keep the faith," he adds. "We're going to get through all of this and we will be a better society because of it."
The Canadian host spoke openly about his stage 4 pancreatic cancer diagnosis and appeared in multiple public service announcements to raise awareness about the disease. On World Pancreatic Cancer Day on November 19, Trebek gave a warning message in a pre-recorded episode before his death.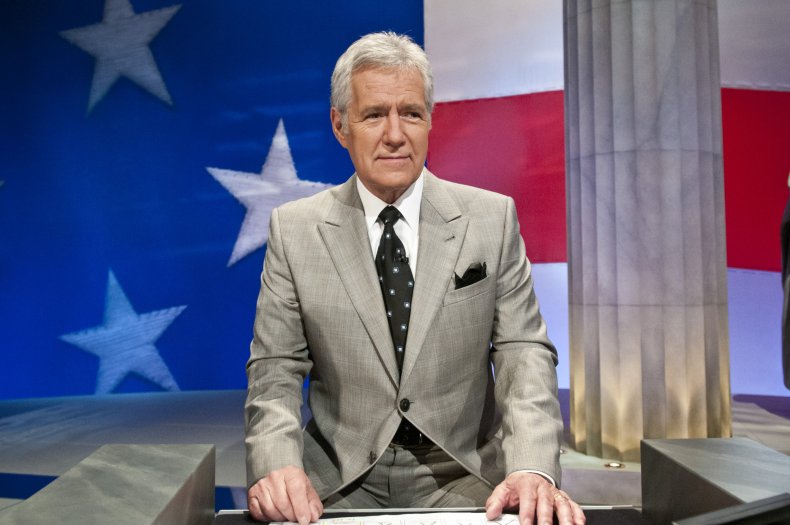 "If you or anyone you know has developed some of the symptoms that I have talked about in the past, then, by all means, get to a doctor, get yourself tested. I want you to be safe. This is a terrible, terrible disease," he said.
Also on that day, Trebek's wife, Jean, shared a message through the official Jeopardy! Twitter in honor of her late husband.
"It's about time we stop taking for granted the preciousness of each day and start living in the full experience of kindness and coherency," she said.
Last year, Trebek teamed up with the World Pancreatic Cancer Coalition to promote a message on recognizing symptoms and getting frequent checks.
"I wish I had known sooner that the persistent stomach pain that I experienced prior to my diagnosis was a symptom of pancreatic cancer," he said in his announcement. Trebek was diagnosed with cancer in March 2019.
Trebek also offered words of encouragement to the late Rep. John Lewis, who faced a similar diagnosis.
In an interview with Good Morning America earlier this year, Trebek detailed that he was undergoing experimental immunotherapy treatment and that his fight with pancreatic cancer had been extremely difficult and took a mental toll. However, the constant support from fans and his love for the show has encouraged him to keep hosting after 36 years.
"It's something that I can't explain intellectually. At a gut level, without even thinking about it, it just happens. I suddenly wake up and I'm able to perform and handle the show because I like it. It's a good job," he said.
Jeopardy! will air new pre-recorded episodes hosted by Trebek until Christmas Day. On Monday, the game show announced that it was not yet ready to replace the host, but that record-breaking contestant Ken Jennings will begin taping new shows earlier this month as a temporary host to be aired next year.
Following the announcement, Jennings tweeted: "There will only ever be one Alex Trebek, but I'm honored to be helping Jeopardy! out with this in January."