Watch: Amazon Stops Selling Hair Dryer after Woman Discovers it Shoots Fire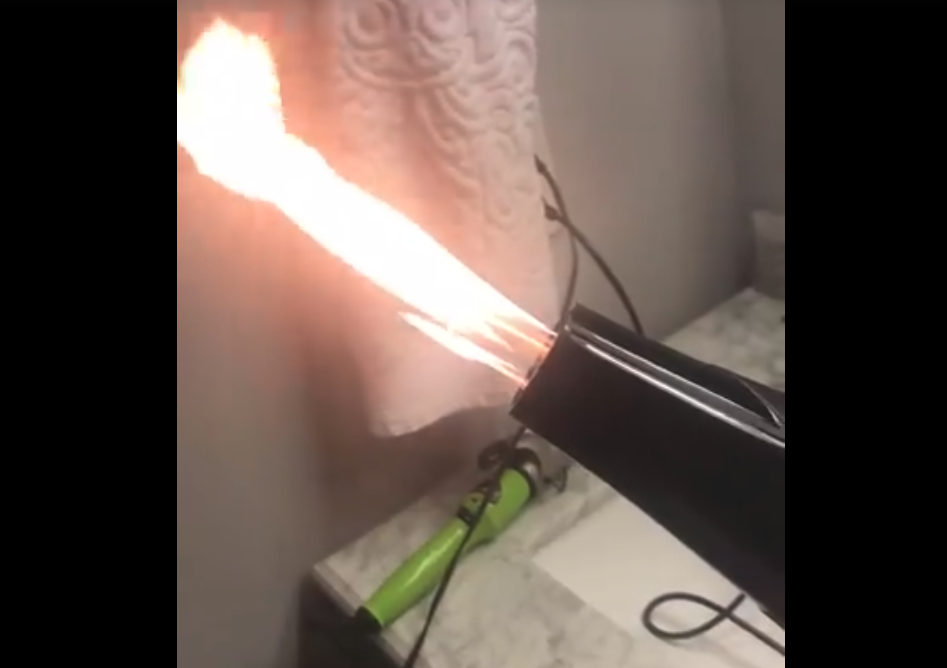 Amazon has removed a hair dryer from its site after a South Carolina woman posted a video of the product shooting fire like a flamethrower.
Erika Augthun Shoolbred, from Spartanburg, posted two videos of her new hair dryer smoking and shooting fire to Facebook on Monday, claiming that the malfunction caused minor burns to her hands.
"Talk about a bad hair day! My new hair dryer (more like hair frier) from OraCorp on Amazon.com became a blow torch on its first use this morning. A small burn on my hand and an enormous smell to my master bath - the company has yet to respond to my complaint or videos," she wrote in the post.
In the second video, Schoolbred can be heard saying "Oh my gosh. I can not freakin' believe this. Fire is coming out of the hair dryer."
Shoolbred explained to her Facebook friends that Amazon credited her account with a full refund and gave her the contact details for the company OraCorp, who she has reached out to but has yet to hear back from.
Cheryl Chapman, a concerned friend, wrote in the comments section that Shoolbred "could have been badly burned, caught the house on fire, or even killed."
Shoolbred responded: "I'm still a bit shaken actually. The dryer would not turn off. The off on the switch only made it more torchy. I knew I would have to get it submerged in water but first I had to pull the cord from the wall. That's when I burned my hand. I then was shocked after pulling it from the wall that it still flamed up. I then ran it under the sink."
Although the Salon Grade Hair Dryer by OraCrop has been pulled from Amazon, hundreds of products are still available by the retailer including Bluetooth speakers, air humidifiers and handheld electric tweezers.
Newsweek contacted Amazon and OraCorp with a request for comment, neither organizations responded at the time of publication.