Watch: Baboons Use Barrels to Escape from Texas Research Facility, Prompting Roadway Chase
Updated | A troop of baboons managed to escape from a biomedical research facility in Texas by propping up a barrel and leaping over the fence of their enclosure, prompting a roadway chase.
Videos shared on social media showed people in masks chasing after the baboons, who managed to escape from the Texas Biomedical Research Institute (TBRI) in San Antonio on Saturday.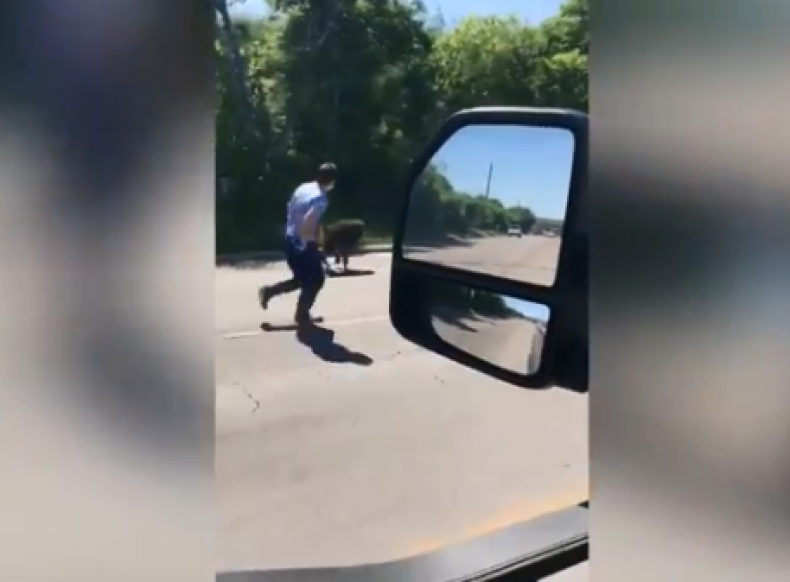 The institute said it believes the baboons rolled a 55-gallon barrel left in their enclosure as an "enrichment tool" to an upright position and used it to climb out. The barrel, which had been used to help baboons "mimic foraging behaviors," according to the TBRI, has since been removed from the enclosure since it was used in the escape.
Three of the baboons were rounded up within less than half an hour of escaping, while a fourth appeared to return to the enclosure on his own.
Resident Dorian Reyna, who captured video of workers chasing baboons down Military Drive before joining the pursuit, said in a Facebook post that he had been concerned at first seeing "people in scrubs and face masks chasing a baboon."
"Then the [baboon] bust a U-turn and runs back the other way–and he is fast as hell too," Reyna said, describing the chase. "So we tell the guys to jump in the back of the truck and start chasing the baboon back the other way."
He said people were "running around, screaming at this thing" and chasing the baboon until it finally became tired and rested under a tree, where workers were able to capture it.
"Moral of the story-keep your monkeys locked up," Reyna said. "And I started looking up that area... Texas biochemical testing facility... no wonder they were wearing masks," he added.
The primates are being kept by the Southwest National Primate Research Center, which operates from the TBRI campus and keeps more than 2,500 animals in captivity on the campus for research into diseases and drug treatments.
Dr. John Bernal, an attending veterinarian at the SNPRC, said the baboons were not part of an active study. Workers who retrieved the baboons were only following protocol by wearing masks and other protective equipment while tracking the primates down, he noted.
"The animal care team held two of the three baboons to the tree line, while members of the animal capture team followed one baboon along the street and used verbal and hand signaling commands to corral the baboon to the tree line for its safety and efficient capture," Bernal said in a statement.
Lisa Cruz, TBRI's assistant vice president for communications, called the baboons' escape a "truly a unique incident."
"We have been caring for research baboons for more than 50 years. We have nearly 1100 baboons on the property that date back eight generations," Cruz said in a statement.
She said baboons were "critical to biomedical research," adding that "Baboons, in particular, have played an important role in the discovery of life-saving drugs, therapies and vaccines and have led to greater understanding of chronic diseases like heart disease, diabetes, obesity, osteoporosis and so much more that impact the lives of millions of people."
However, animal welfare advocates say they have long had concerns about the Texas research facility.
Kathleen Conlee, who is Vice President of Animal Research Issues at the Humane Society of the United States, (HSUS) said an undercover investigation into the TBRI had found baboons were being kept in "poor conditions."
"They were really just kind of thrown together in a big corral and didn't have a lot of enrichment or opportunities to engage in natural behavior," Conlee said. "We also thought they were being underfed, as we saw a lot of rock eating."
The baboons also engaged in destructive behavior, including wounding each other, hair plucking and self-biting, which Conlee said suggested that their social needs were not being addressed.
Conlee also said a dead animal had been left in the enclosure for a full weekend before it was noticed and removed.
The animal research issues expert also said that while the facility claims baboons are "critical to biomedical research," that is simply no longer the case, arguing that animal testing is not only inhumane, but also no longer necessary or cost effective for research.
"At the end of the day there are many problems with using these animals, so why do we continue to invest in something that's not going to get any better and will continue to be problematic?" Conlee asked.
She said alternatives, such as "organs-on-chips" technology, which involves growing human cells in a system that mimics the structure and function of human organ systems for testing, 3D printing and epidemiological studies, now provide more humane opportunities for conducting biomedical research without harming animals.
"Our job is to help move towards not using animals and primate for biomedical research and replacing them with alternatives that are better for human health and more cost-effective," she added.
The baboons' escape has prompted many to call for their release to a sanctuary, with surgeon and healthcare columnist Eugene Gu writing on Twitter: "This is heartbreaking. Four baboons worked together to roll a 55 gallon barrel and escape the research facility where they were subject to horrifying medical experiments."
"They earned their freedom. Let them go to a sanctuary," he said, adding, "Some animals are too sentient to be subjected to this."
This article has been updated with comments from the Humane Society of the United States.​