Watch Baldwin Spoof Trump and Bill O'Reilly's Bromance on 'SNL'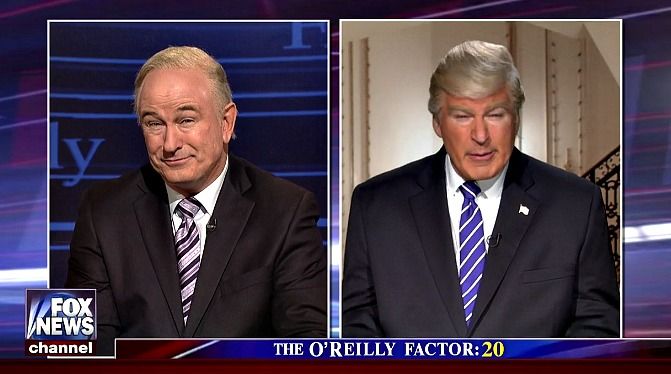 "Saturday Night Live" gave embattled Fox News host Bill O'Reilly a boost from an even more powerful man who has faced similar sexual harassment allegations: Donald Trump.
Alec Baldwin returned to pull double duty as both O'Reilly and Trump on this weekend's episode of "SNL," hosted by comic Louis C.K. Trump appeared as a guest on "The O'Reilly Factor," which has seen advertisers flee after the New York Times spotlighted five separate allegations of sexual improprieties and other inappropriate behavior that have resulted in $13 million in monetary settlements.
RELATED: O'Reilly says he's a 'target' for suits
Baldwin eerily inhabited both men's personalities on a talking head split screen, nailing O'Reilly's smug, authoritative presentation as he dealt with female correspondents who will no longer appear in studio and commercial breaks without his usual complement of sponsors.
"As you know, 60 of our sponsors have pulled their ads from the program. No word as to why yet," Baldwin's O'Reilly says, before introducing ads for "Dog Cocaine" and Eliquis, described as "Cialis for horses. Get your horses boned up and see what happens."
He addresses the controversy by saying, "Apparently several women have come forward and accused me of offering them exciting opportunities here at Fox News," before bringing on Trump, a "man who is unimpeachable on all female issues."
Trump notoriously was caught on tape condoning and joking about sexual assault during the campaign season, during which he also fought allegations from multiple women on sexual harassment claims going back years. Many were appalled this week, using words like "disgusting" and "sickening," when the president broke from hosting several international leaders to defend O'Reilly. He told his hated New York Times that he knows the "O'Reilly Factor" host as a "good person" who "shouldn't have settled" because "I don't think Bill did anything wrong."
Baldwin's Trump told O'Reilly that he came to his defense purely on a "hunch, just a loose hunch.
"I'm more familiar with this case then I am with say healthcare, but I didn't really look into it, no. I was too busy being super presidential by bombing a bunch of (bleep)," Trump says.
"I'd like to thank you for promoting Sexual Assault Awareness Month," O'Reilly says. "It's a subject that's near and dear to my hand," Trump says.
'Trump's People'
The dichotomy between Trump's everyman rhetoric and his rich-man policies was skewered during the cold open to the show, which saw the president make a stop in Boone County, Kentucky, where 68 percent of the vote this fall went to the Republican. Trump takes questions from supporters who are worried about their healthcare, job prospects, wages and more while remaining committed to the president despite his calls to slash most all federal spending outside of the military.
"God, I love coal. As president, I promise I'm going to do everything I can to make sure you people work in coal for the rest of your lives," he tells one questioner played by Mikey Day.
"All we want is good jobs. They don't have to be in coal," Day's character says.
"Sorry hombre, it's all coal. In Trump's America, men work in two places: coal mines and Goldman Sachs."
Trump and House Republicans' failed bid to repeal and replace Obamacare, which would have instituted a bill that the Congressional Budget Office saw as increasing premiums on older Americans with millions losing healthcare entirely, was satirized in an exchange with a questioner played by Beck Bennett. "I know you tried your best to fix it but you just couldn't," he says. "You mean Paul Ryan couldn't," Trump says. "I did everything I could. I made phone calls, I jumped into a truck and I posed for pictures. I went 'honk, honk.'"
"I'm talking to the Freedom Caucus and we're going to get rid of it... All of it, gone."
Trump's enduring populist appeal among a minority of Americans was aptly explained.
"You people stand by me no matter what. It is like you found a finger in your chili but you still eat the chili because you told everyone how much you love chili," Trump says.