Charges in Freddie Gray Death: 6 Police Officers Face 28 Charges, Including Manslaughter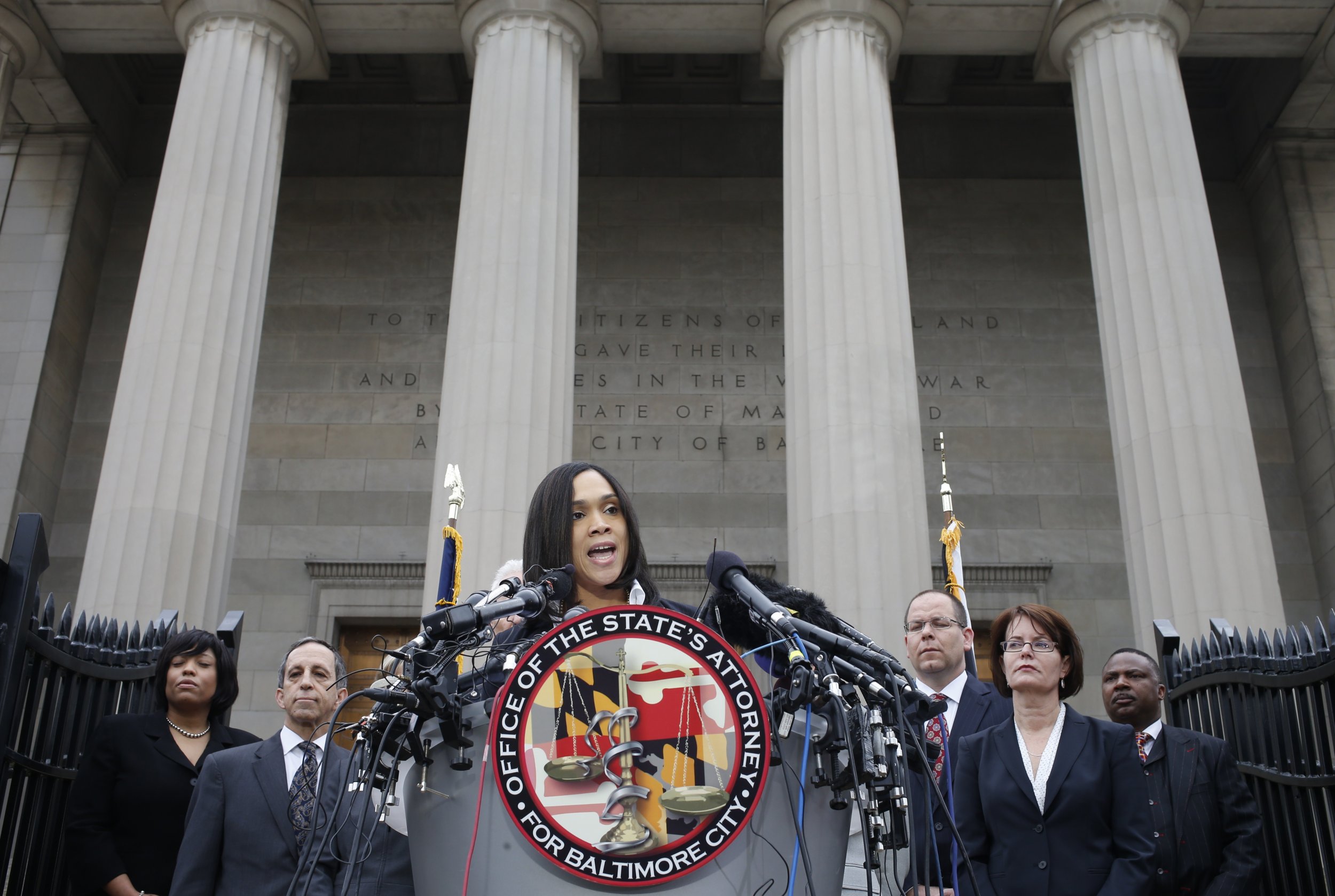 On Friday morning, Marilyn J. Mosby, the Maryland state attorney, spoke about the investigation into Freddie Gray's death. Mosby was joined by members of the Police Integrity Unit of the state's Attorney's Office and two independent investigators.
Mosby said the investigation found Gray was arrested illegally and did not receive medical attention in due time. The State Attorney determined there was "probable cause for criminal charges."
She determined Gray was falsely imprisoned, as he was not doing anything illegal when he was chased and arrested by police. He was carrying a knife on him at the time of the arrest, which is legal in the state of Maryland.
Mosby's preliminary investigation determined Gray was not buckled into the police wagon per Baltimore Police Department regulations. Officers had at least five instances in which they could have done this, Mosby added. Gray requested medical attention for injuries sustained in the wagon multiple times. Mosby found these requests were ignored by multiple officers.
A variety of charges are being brought against the officers involved, including assault in the second degree, misconduct in office, false imprisonment, manslaughter, involuntary manslaughter and second-degree depraved-heart murder.
Six police officers were charged in total. Mosby stressed that the officers are innocent until proven guilty and their charges do not reflect on the entire Baltimore Police Department. Warrants for their arrests were issued on Friday morning. Mosby did not offer any background information on the police officers.
"I've heard your calls for no justice, no peace. Your peace is needed as I work to deliver justice in the case of Freddie Gray," Mosby said.
Gray was arrested and sustained a spinal cord injury from which he died in mid April. Following his funeral earlier this week, peaceful protests in Baltimore turned to violent riots, which included looting, burning of buildings and over 200 arrests. Almost 100 police officers were injured in the riots, and many were hit by rocks and bricks thrown by protesters. Mosby commended those who protested peacefully as well as the police officers who protected the city during the riots.
The Baltimore Police Department first began their own investigation, using 30 detectives. The findings of this investigation were turned over to the State Attorney on Thursday, though Mosby noted her office had completed their own investigation as well.
"Over the course of our independent investigation, my team worked around the clock, 12 and 14 hour days to canvas and interview numerous witnesses," Mosby said. The investigation team also reviewed the route and medical examinations.
"From day one, we have independently investigated. We are not relying solely on what we learned from the Baltimore Police Department," Mosby added. "I thought it was very important to have an independent analysis in regards to what took place. We are independent agencies from the police department."
The officers' reasoning for leaving Gray unbuckled and declining to get him medical attention immediately remains unknown. The Baltimore Police Department Union hasdenied the officers are responsible for Gray's death and claim there was no wrongdoing.