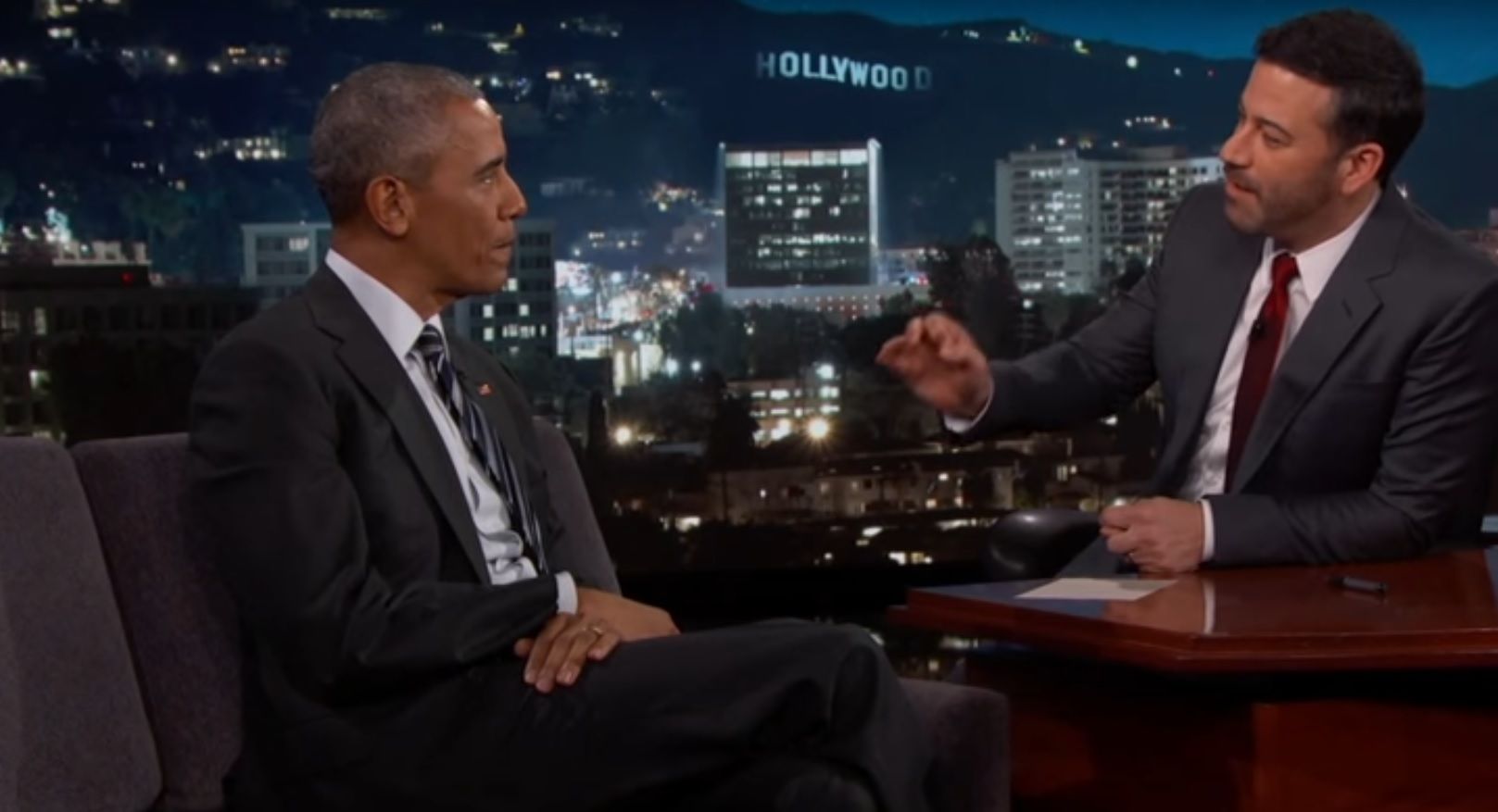 The presidential debates are over. The election is still two weeks away. And U.S. president Barack Obama is having a bit of fun. He appeared on ABC's Jimmy Kimmel Live Monday night and took a swing at Donald Trump's chances of being elected his successor.
Obama appeared in Kimmel's "Mean Tweets" segment, reading less-than-pleasant Twitter messages directed at him—including a tweet from one @realDonaldTrump.
Watch below:
Obama read a message from Trump that said: ""Obama will go down as perhaps the worst president in the history of the United States."
His response? "Well, @RealDonaldTrump, at least I will go down as a president."
In an interview with Kimmel, the outgoing commander in chief also weighed in on the three rounds of verbal sparring disguised as debates between republican candidate Trump and Democratic candidate Hillary Clinton that concluded last week.
Kimmel asked if Obama laughed watching Trump's antics—including but not limited to calling Clinton "such a nasty woman"—to which he responded, "Most of the time," before breaking into a smirk.
But Obama turned more serious when questioned when talking about the possibility of Trump in the White House.
He said: "Look, we joke about Donald Trump, but I do think that part of the reason you've seen Michelle [Obama] passionate in this election, part of the reason we get involved as much as we have, is not just because we think Hillary is going to be a good president. But also because there is something qualitatively different about the way Trump has operated in the political sphere."
"Sometimes it's going to be contentious and noisy," he said of the election race. "But what we haven't seen before is somebody questioning the integrity of elections and the will of the people.
"What we haven't seen before is a politics based on putting down, in very explicit terms, of Muslim Americans who are patriots. Or describing women, not in terms of their intellect and their character, but on a 1-10 score."