Watch: Bear Paints Abstract Masterpieces
A black bear named Fern who lives in a Washington zoo painted an abstract masterpiece on the floor of her enclosure.
Fern and brother Benton live at Northwest Trek Wildlife Park near Eatonville, in northwestern Washington state.
The pair were rescued as orphans in Oregon in 2008 before spending several years at a zoo and then being transferred to their wildlife park in 2014.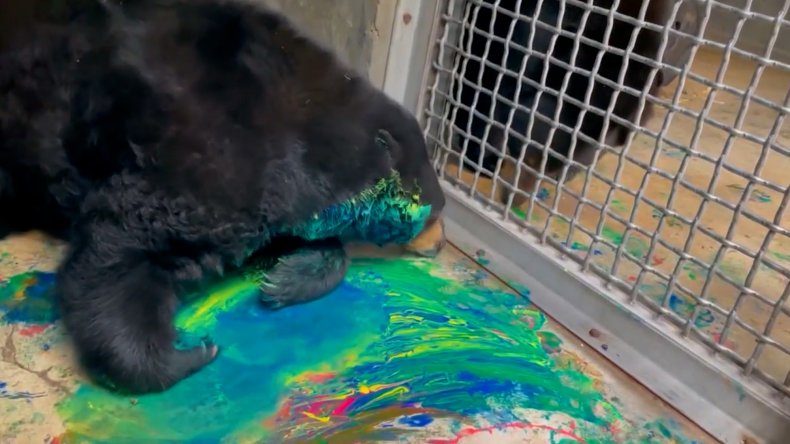 The animal care team gave Fern some art supplies to produce fun paw prints for fundraising campaigns; however, she decided to use her face instead.
In the footage, Fern appears to be having a good time smearing colorful images onto the floor of her enclosure with her furry face.
The wildlife park pointed out that she was using non-toxic paint.
"Our animal care team gave Fern the black bear supplies to make paw prints for our friends and fundraisers, but Fern opted for some face painting fun with the non-toxic paint instead," the park said.
"Our black bears Benton (male) and Fern (female) are brother and sister. They were rescued as orphans in Oregon in 2008, living at another zoo before finding a home at Northwest Trek in 2014.
"They're very comfortable together, even taking turns resting in the den they've dug.
"Fern is always very aware of her surroundings. She can be cautious, but is sometimes playful. She's very motivated by food, especially anything sugary like apples, pears and grapes.
"She likes making herself daybeds around her habitat where she can nap and observe everything. She also likes making mulch out of rotting logs and foraging for food.
"During winter she often chooses to sleep (torpor) in the den she and Benton dug in the middle of the habitat under a tree snag."
The wildlife park added: "Fern was named after the common Washington plant."
Northwest Trek Wildlife Park, which is home to grizzly and black bears, grey wolves, bald eagles, cougars, wolverines and bobcats, as well as other animals, said: "Black bears are large, strong animals with a wide range of coat colors from brown to bright blonde, smoky blue and even white.
"They live in forests, swamps and mountains across the U.S. and Canada into Mexico.
"When not sleeping, bears spend most of their time foraging for food. They are also good tree climbers.
"Black bears are omnivorous. Depending on the season, they eat primarily plants, sometimes carrion or animals."
This story was provided to Newsweek by Zenger News.