Watch Bernie Sanders Iowa City Rally Live Stream: How Popular is Senator in Key 2020 Election State?
Presidential candidate Senator Bernie Sanders continues his three-stop tour of Iowa, where delegates from each party go to cast some of the first votes in the presidential primary cycle, with a rally in Iowa City on Friday evening.
The rally, co-sponsored by the University Democrats and Young Democratic Socialists, will start at 7:30 p.m. ET (6:30 p.m. local time) at Iowa Memorial Union. The event is free and open to the public on a first come, first serve basis.
A live stream of the rally, courtesy ABC 17, can be found here.
Sanders's first stop in Iowa was Council Bluffs on Thursday evening.
Newsweek subscription offers >
"Iowa, you helped begin the 'political revolution' in 2016," Sanders said. "And with your help in this campaign, we are going to complete what we started here."
Newsweek subscription offers >
It was in Iowa that Sanders, an independent, nearly pulled off a dramatic upset over fellow candidate for the Democratic nomination Hillary Clinton in the last presidential election cycle. Sanders got more than 49 percent, in a tight race with Clinton who got just over 50 percent. That was a surprising outcome given Sanders trailed Clinton by close to 57 percentage points in April 2015 when he announced he was seeking the Democratic nomination. The gap had narrowed to single digits by spring 2016.
"When I first came here to campaign in 2015, the truth is that not a whole lot of people knew who the junior senator from Vermont was. At that time nobody took our campaign seriously, and we began that campaign at 3 percent in the polls—and I thank those 3 percent," Sanders said on Thursday. "Further, the ideas, the agenda, that we were talking about at that time four years ago was considered by establishment politicians and mainstream media to be 'radical' and 'extreme'—remember that?"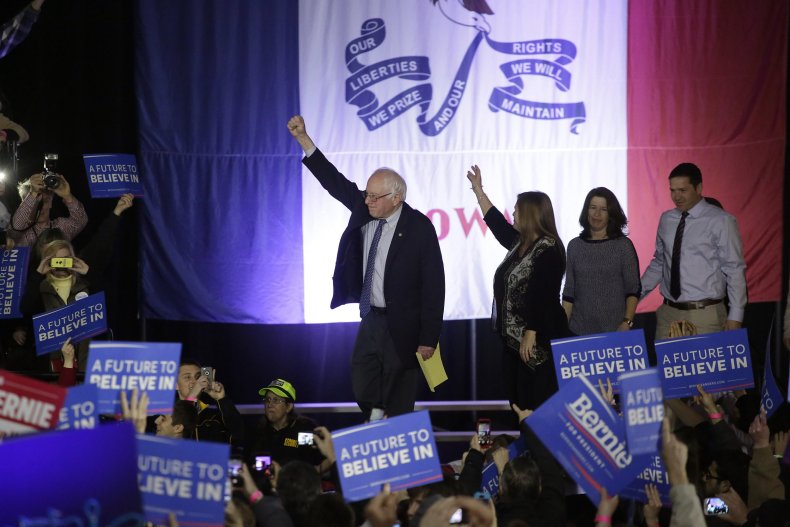 Sanders has come a long way in the past four years and arrived in Iowa this time around as one of the front-runners to secure the Democratic nomination.
Despite losing out to Clinton, Sanders's platform, which was considered radical to many in 2016, has been largely adopted by Democrats. Sanders is pushing a $15-per-hour minimum wage, Medicare for all and combating climate change.
An Iowa poll conducted in mid-December by CNN, the Des Moines Register and Mediacom found that Sanders had 19 percent of the vote among likely candidates, trailing only former Vice President Joe Biden, who has not announced his candidacy.
Sanders's final stop of this Iowa trip is Saturday morning in Des Moines at the Paul R. Knapp Animal Learning Center at the Iowa State Fairgrounds, 11:30 a.m. ET (10:30 a.m. local time).
Watch Bernie Sanders Iowa City Rally Live Stream: How Popular is Senator in Key 2020 Election State? | U.S.