Bernie Sanders Town Hall: How to Watch Live Stream, Time for CNN 2020 Campaign Event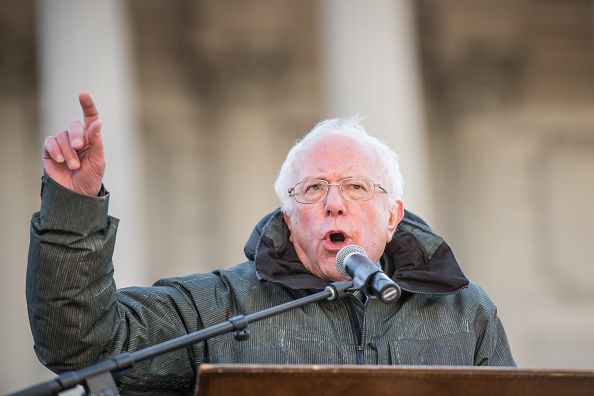 Following the announcement of his 2020 presidential campaign, Senator Bernie Sanders will head to Washington D.C. to talk policy and field questions from voters during a nationally-televised town hall event.
Monday evening's town hall, which will be moderated by CNN's Wolf Blitzer, will air at 8 p.m. eastern time. The event can be watched live on the cable news channel or streamed online at Sanders's official Twitter account @berniesanders and CNN.com.
Sanders announced his candidacy for the presidency last week, telling Vermont Public Radio that "what I promise to do is, as I go around the country, is to take the values that all of us in Vermont are proud of—a belief in justice, in community, in grassroots politics, in town meetings—that's what I'm going to carry all over this country."
This will be Sanders's second shot at the Oval Office. In 2016 the Vermont senator lost the Democratic nomination to Hillary Clinton, though his grassroots campaign gave the former secretary of state a serious primary challenge. Sanders won 23 primaries and caucuses before conceding defeat to Clinton. According to CNN, Sanders will "address a host of issues" during the prime-time event. It is the first town hall of Sanders's 2020 campaign, which was launched less than a week ago on February 19.
In the 24 hours following his announcement, his campaign raised nearly $6 million through donations from all 50 states, besting most other 2020 contenders. Senator Kamala Harris raised $1.5 million in the first day of her campaign and Senator Amy Klobuchar raised $1 million in the first 48 hours after launching her campaign.
Early polling shows Sanders to be one of the frontrunners in the Democratic Party, even though the 77-year-old lawmaker identifies as an independent. In a survey from Emerson College, Sanders beat out every other Democratic candidate (including undecided former Vice President Joe Biden) in a New Hampshire primary poll.
In his message to voters so far, Sanders has largely stuck to the same playbook as his 2016 campaign. He remains a champion of progressive policies like "Medicare for all," free college tuition and action on climate change.
"Real change never takes place from the top on down but always from the bottom on up," Sanders said in his campaign announcement video.
Unveiling his candidacy, Sanders also said that he is running to oppose President Donald Trump — whom he called an "embarrassment to our country" in the interview with Vermont Public Radio.
"I think he is a pathological liar… I also think he is a racist, a sexist, a homophobe, a xenophobe, somebody who is gaining cheap political points by trying to pick on minorities, often undocumented immigrants," Sanders said.
Trump fired back, with his campaign saying that the "American people" will reject Sanders's "brand of socialism."