Watch Beto O'Rourke Rally Live Stream: Democrat Speaks in El Paso Ahead of Donald Trump Speech
As President Donald Trump holds a rally at the El Paso County Coliseum on Monday evening, a native of the border town, former Democratic congressman Beto O'Rourke, will speak at an event taking place simultaneously just a mile away.
The "March for Truth: Stop the Wall, Stop the Lies" event is slated to start at 5 p.m. MT (7 p.m. ET) at Bowie High School at 801 South San Marcial Street. A brief rally led by Democratic U.S. Representative Veronica Escobar will begin at 5:30 p.m. MT (7:30 p.m. ET), followed by a march to Chalio Acosta Park, where O'Rourke will make his remarks at about 6 p.m. MT (8 p.m. ET).
Here is a live stream of the event, courtesy of CBS News:
A live stream will also be provided on the Facebook page of the Border Network for Human Rights, one of several dozen community organizations hosting the event.
"El Paso is a strong and safe community because of its people and their values. Border communities are a place of opportunity and hope. Trump's fixation on a border wall and his distortions of life in El Paso and along the border are unacceptable," the event Facebook page says. "Our communities will always stand to include immigrants, oppose racism, and defend the truth."
Trump's rally is scheduled to start at 7 p.m. MT (9 p.m. ET), and the president is expected to speak about the need for a border wall.
"Will be heading to El Paso very soon. Big speech on Border Security and much else tonight," Trump tweeted late in the morning Monday. "Tremendous crowd! See you later!"
In a video tweeted by the progressive PAC Latino Victory Fund, O'Rourke invited his followers to join "thousands of El Pasoans" at the event "not too far from the coliseum, where we're going to present a powerful, positive message for the country about who we are on the U.S.-Mexico border."
On Monday afternoon, O'Rourke tweeted, "We will meet lies and hate with the truth and a positive, inclusive, ambitious vision for the future from the U.S.-Mexico border."
O'Rourke has criticized Trump on a number of issues, particularly the border and immigration. He corrected Trump after the president said in his State of the Union address last week, "The border city of El Paso, Texas, used to have extremely high rates of violent crime, one of the highest in the country, and considered one of our nation's most dangerous cities. Now, with a powerful barrier in place, El Paso is one of our safest cities."
The former congressman, who gained notoriety after running a surprisingly close midterms race against Republican Senator Ted Cruz, tweeted in response: "Our government built a border fence in El Paso in 2008, a misguided response to 9/11 (no terrorists have crossed the southern border and attacked this country). It didn't make us any safer. In fact crime in El Paso increased after it was built."
O'Rourke's supporters have called on him to run for president in 2020, but he has not yet made an official decision.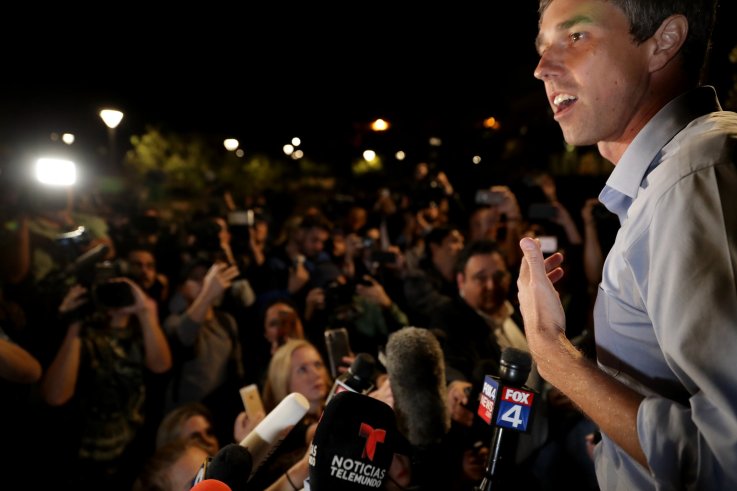 Watch Beto O'Rourke Rally Live Stream: Democrat Speaks in El Paso Ahead of Donald Trump Speech | U.S.