Watch: Bill Maher and Marianne Williamson Bond Over Criticism of Big Pharma, Anti-Depressants
On the heels of contentious interviews with both MSNBC's Ari Melber and CNN's Anderson Cooper, Democratic presidential hopeful Marianne Williamson sat down for a more congenial chat with Bill Maher on Friday and defended her spiritual philosophy and her controversial statements about the efficacy of antidepressant drugs.
After congratulating Williamson for being "the most Googled" candidate from last week's Democratic debate, Maher lightly pressed the author on her allegiance to a philosophy outlined in "A Course in Miracles," a new-age tome that promises "spiritual transformation" for those who — essentially — acknowledge the divine power of love. The book was written in the 1960s by a New York doctor who, according to the New York Times, claimed to be "channeling new revelations from Jesus Christ himself."
"It sounds like Scientology," Maher joked, delivering his most pointed criticism of the evening.
"How can you even say that?" Williamson responded. "It is a book that is based on universal spiritual themes. It is not a religion. It does not claim any kind of monopoly on truth. It has no dogma. It has no doctrine."
Later in the show, Maher and Williamson found themselves in agreeance on the subject of anti-depressants. As her public profile has risen, Williamson has faced increased scrutiny for past comments that claim the drugs "numb" and "mask" pain rather than treat root causes. She also referred to clinical depression as a "scam," a blasting for which she has since apologized.
She defended her remarks and suggested the public should view Big Pharma more critically, pointing to the opiate epidemic as evidence that drug companies can't always be trusted.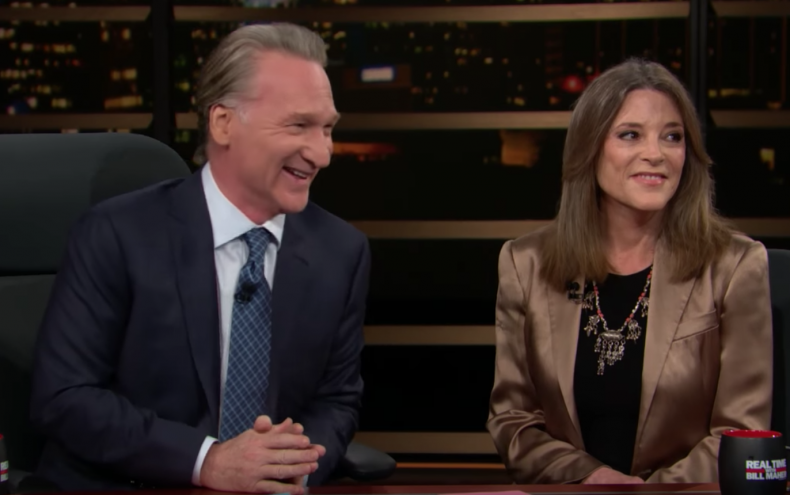 "I don't know why we should just assume that in every other area, that Big Pharma is acting with the purest intent and concern with the common good," she remarked.
Maher agreed, as he did through most of the friendly chat.
Friday's show, which marked the host's return from an extended summer hiatus, also featured appearances from right-wing radio host Buck Sexton, journalist Josh Barro and commentator Jennifer Granholm.
It was during that panel discussion that the show was briefly interrupted by a supporter of President Donald Trump, who shouted down Maher for "trashing our great president and our great country," along with other inaudible remarks. The brief interruption — which lasted less than two minutes — went viral on Saturday morning.
"I know, I know, you're going to make America great again," Maher, who stood up to view the unidentified man, said in response to the outburst. "You've made your point — I don't know what it was, but you've made your point. I think your point was that you like Trump, and there are a lot of people who like Trump."
Maher then quipped, "Make sure he doesn't have a gun."
Watch the moment in the below clip.