Watch Boy's Adorable Reaction to Being Caught Sleeping by His Crush
When trying to impress the person we have a crush on, we usually spend a lot of time trying to look and present ourselves the best way we can. But one young boy was caught out by the girl he has been harboring feelings for in a now-viral video that has melted hearts.
Mom Dawn Edmonds from Worcester, Massachusetts, shared the video of her son Christopher, aka Pookie, on Wednesday. Now with more than 9 million views, the boy's embarrassing moment has captured hearts around the world.
In the video, Edmonds explains that her son has a crush on the girl in the video. In the back of the car, he lies asleep before the girl comes up and taps him on the shoulder. His hilarious reaction has delighted viewers as he wakes, sees the girl, and looks embarrassed.
Academic health center UC Davis Health, operated by the University of California, says that children's first crushes can occur at any time but generally start at around 10-13 years of age.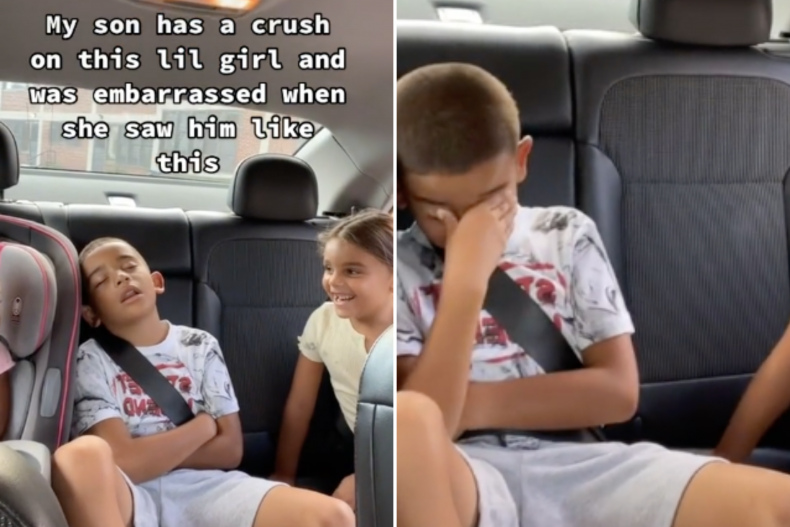 An important part of developing normal and healthy relationships in the future, crushes provide kids with the opportunities to learn how to communicate feelings.
While we don't always associate romance with young kids, studies have found that among children in the third or fifth grade, half have reported having a boyfriend or girlfriend.
Experts advise that it is important to support your children as they have these new feelings. Being open and honest about feelings and relationships can help your child in developing healthy relationships in the future and learning about the dynamics of friendships and, eventually, romantic relationships.
Edmonds told Newsweek: "My daughter picks up my children every day and takes them back to her house. She saw the girl along with the other children coming towards her house to play with Pookie as they do every other day. My daughter calls her over to the car and tells her to get in and tap him while he was sleeping so when he wakes up he would see her."
Aware that Pookie had a crush on the girl, the prank worked perfectly as his older sister filmed and woke him before his hilarious reaction was caught on camera.
"Pookie is a very silly child," said Edmonds. "He is so unfiltered and funny."
Pookie's embarrassment has left viewers in stitches. One commenter on TikTok wrote: "He was so embarrassed aww." Another said: "Lmao why you do him like that."
"This is so freakin' cute," wrote another commenter. Another reply said: "Be sure to show him the video and point out how big her smile was when she was looking at him he needs that boost."
The boy's mom was quick to clear up that although he may have looked a little shocked, he wasn't really upset. "He was never upset or felt any way about it," said Edmonds. "He actually laughed when I showed him later that night. He said [...] 'Mommy I didn't say a bad word, I said oh shoot!'"