Watch: Brett Kavanaugh Snubs Parkland Victim's Father's Handshake Attempt At Hearing
The father of a student who died in the Parkland, Florida, school shooting in February said Judge Brett Kavanaugh ignored his attempted handshake Tuesday during the Supreme Court nominee's confirmation hearings.
Fred Guttenberg, the father of Jamie Guttenberg, who was one of the 17 people killed during the shooting at Marjory Stoneman Douglas High School on February 14, said he walked up to Kavanaugh after the morning portion of the hearing ended, introduced himself and stuck out his hand for a handshake. Guttenberg said the judge walked away from him without returning the greeting.
A video posted to Twitter showed Guttenberg attempting to shake hands with Kavanaugh, who looked at him before turning and walking away.
"Just walked up to Judge Kavanaugh as morning session ended. Put out my hand to introduce myself as Jaime Guttenberg's dad. He pulled his hand back, turned his back to me and walked away. I guess he did not want to deal with the reality of gun violence," Guttenberg tweeted.
Newsweek reached out to Guttenberg about the incident but did not hear back in time for publication.
In an apparent response to the incident, White House deputy press secretary Raj Shah responded to Guttenberg's tweet, saying: "As Judge Kavanaugh left for his lunch break, an unidentified individual approached him. Before the Judge was able to shake his hand, security had intervened."
Tuesday was the first day of Kavanaugh's hearing. It will take place over the next few days and allow senators to challenge the Supreme Court nominee and ask him questions.
Other Parkland survivors have been responding to the way Kavanaugh ignored Guttenberg's handshake. Cameron Kasky, a Parkland shooting survivor and the co-founder of March for Our Lives, commented on Guttenberg's tweet and thanked him for being the "better man."
"I cannot believe this. Thank you for being the better man," Kasky wrote on Twitter.
Guttenberg, along with other Parkland survivors and parents, has been fighting for increased gun control since alleged gunman Nikolas Cruz walked into Marjory Stoneman Douglas High School and fired at students and faculty members.
The father of the slain Parkland student has become a prominent gun control activist since the shooting. In May, Guttenberg slammed the comments of Oliver North, the new leader of the National Rifle Association. North had told The Washington Times that the Parkland students were not activists and called their actions "civil terrorism."
"Less than three months ago, I was a normal Parkland parent who had two kids. Now, I have one," Guttenberg previously told Newsweek. "The only thing I have done is exercise my right to fight for my family's safety. No cyberwarfare. No nothing. We've just effectively utilized Facebook and Twitter to drive a message. If I'm not mistaken, we have a presidential administration that did the same thing."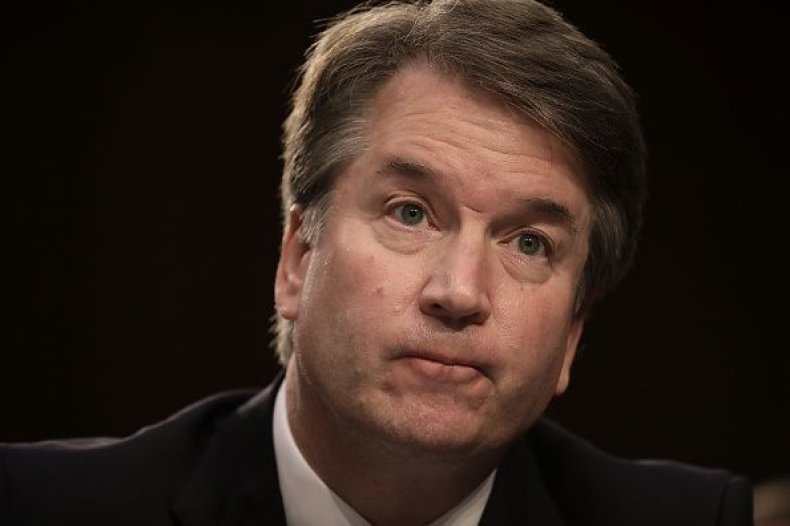 David Hogg, another Parkland survivor and leader of the March for Our Lives movement, also responded to the situation.
"Most pictures are worth a thousand words...This picture is worth thousands of lives call your senators now and tell them to not appoint Kavanaugh 202-224-3121. The NRA has spent millions of dollars to appoint Kavanaugh it's going to take 1000s of phone calls to stop this man," Hogg wrote on Twitter.
Another Parkland parent, however, stood with Kavanaugh. Andrew Pollack said condemned the use of Parkland to "advance a political agenda" and threw his support behind the Supreme Court nominee.
"Judge Kavanaugh was not responsible for the Parkland school shooting that killed my daughter. @RobertwRuncie, FBI, and Sheriff Israel are. Judge Kavanaugh is a decent man and should be confirmed. Stop weaponizing Parkland to advance a dangerous political agenda!" wrote Pollack.