Watch: Chicago Police Form Human Chain to Save Man Trapped In Freezing Waters Trying to Rescue His Puppy
Chicago Police officers were commended after forming a human chain to save a man from Lake Michigan's freezing waters after he was trapped while trying to rescue his dog on Sunday.
Authorities said that five officers from Lincoln District walked on the partially frozen water of Lake Michigan around 1 p.m. on Sunday. On Monday, Chicago Police released a letter from the 33-year-old man, who wished to remain anonymous.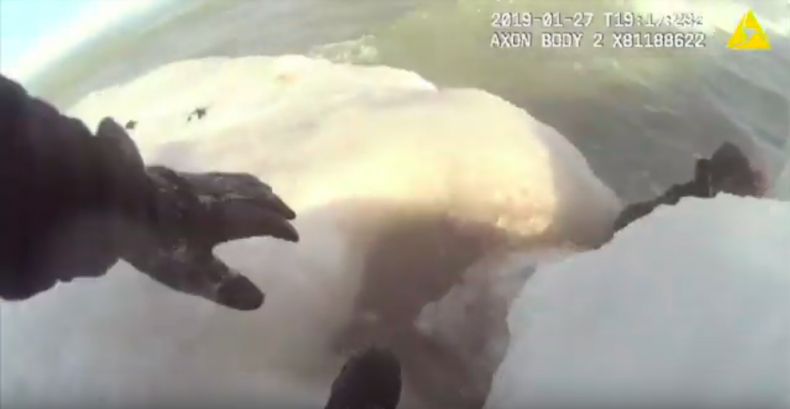 In his letter, he thanked Chicago Police officers and first responders for saving him from the frigid lake. He said his recently adopted 9-month-old American Eskimo mix "was very excited and got away from me, ran down" to Foster Beach.
"I saw him disappear over the ridge," the man said, according to police. "I ran up and looked down six feet to see him paddling in freezing cold water. He is a 19-pound dog and I knew that he would soon die from cold or drowning. I jumped in after him."
The man claimed that the water was up to his waist so he was able to lift his dog, named Pika, onto his shoulders, but that ice walls two feet above his head trapped them in the water. He was able to trudge through the water and find an ice wall that was lower. He then placed Pika on the ice.
The man told police that he was unable to climb out of the chilly waters and that his hands became "numb and flipper-like." He said he was able to call 911 from his phone, but noted that a passerby had seen him jump in the water and alerted police.
Nearby police officers used the passerby's dog leash to pull the man out, The Chicago Tribune reported. Five police officers formed a human chain to get the man out of the icy water, according to Fox News.
Police said the man's core body temperature had dropped to 93 degrees when they rescued him. Hypothermia can set in when an individual's body temperature falls below 95 degrees, according to the Mayo Clinic.
"I have no doubt that I would have died without help, I am forever grateful to them," the man wrote. He said that he and his pup were fully recovered and "in debt to our gracious and heroic first responders."
The man concluded his letter with a warning to other dog owners about the treacherous conditions near the lake.