Watch: Chilean Students Occupy Metro Stations To Protest Fare Hikes
Students have taken over metro stations in Chile's capital in protest over a hike in transportation costs.
Protests began October 11 as students began jumping turnstiles and refusing to pay a fare that is now one of the highest in the regions.
The Ministry of Transport and Communication introduced the fare hike on October 6, which raised the cost of riding on the Metropolitan Public Transport Network, including buses and train across Santiago.
In response to the protests, police have shut down entrances to subway stations as a form of crowd control. Arrests have been made and Chile Today reports that police have launched tear gas to disperse crowds.
Videos posted to Twitter are also showing acts of vandalism, as students forcefully push through turnstiles. In one case, a student used a metal pipe to break a glass kiosk.
One metro worker has been reported injured during the clashes.
According to People's Dispatch, the protests began with just 80 students in three metro stations, but has since expanded to hundreds across Santiago. The protests have also gained traction outside of the student population.
A video on Twitter shows protestors knocking down a gate barring entrance to a subway station, and people of all ages can be seen rushing into the station behind students.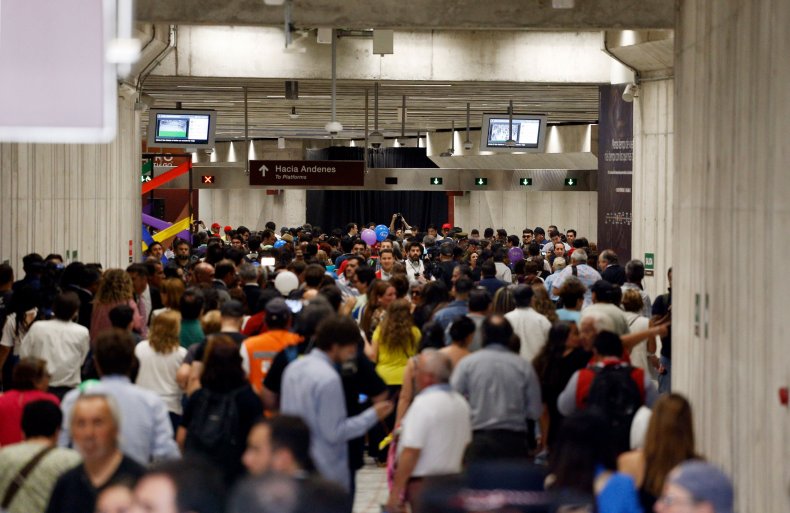 The fare increase brought to prices to 830 Chilean pesos ($1.16 USD) for a metro ticket and 710 pesos ($1.00 USD) for a bus ticket. This is compared to .47 USD for a metro ticket in Buenos Aires and .45 USD for a single ride on the metro in Lima.
Protestors have also been unhappy with the strong stance politicians have taken on the issue, which does not suggest that the fare hike will be changing.
On October 16 the Minister of Transportation, Gloria Hutt, said during a press conference that they are considering adding fare evaders to a registry that could bar them from certain rights, such as getting a driver's license.
Juan Andrés Fontaine, the Minister of Economy, suggested that those unhappy with the hikes should get up early to avoid peak pricing.
Chairman of the Board of Directors of the Santiago Metro, Louis de Grange, tweeted, "It is not evasion, it's violence. We will take legal action."
According to Gazette Review lawmakers introduced a bill on Friday that would place a 480,000 peso fee ($677 USD) on those that evade the metro fare.
Chilean President Sebastian Pinera condemned the acts, saying "I condemn all who believe they can protest without respecting the law. When the law is not respected, it is undermining the freedom of all others."