Watch: Corporation Boss Forces Employee's Face Into Hotpot At Office Party
A Japanese employee is filing a criminal complaint against the president of his company who forced his head into a scalding plate of food at a party.
A clip of the incident taken by two mobile phones shows a group of people in a restaurant in Tokyo around a table with food and jugs of beer on it.
A man whose face does not appear in the footage grabs the back of the victim's head and forces it into a pot of boiling water called a "nabe", which is used for cooking meat and vegetables.
The newspaper Mainichi said the incident took place at an end-of-year party for the entertainment agency MELM on December 20 2015, Japan Today reported.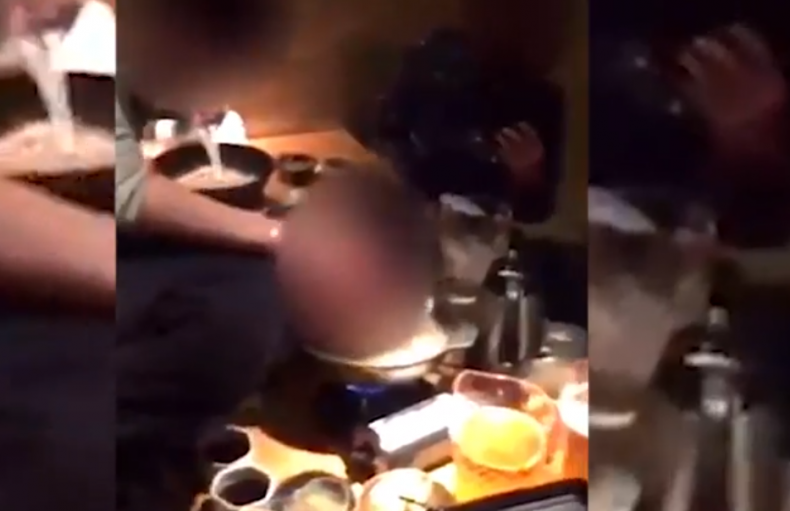 A still image shows the 23-year-old victim, who declined to be named, with extensive burns to his face which took a month to heal. Since then, he has suffered flashbacks, his lawyer said.
Although the incident happened three years ago, his lawyer said he still wanted the president to admit what he did was wrong. The video has gone viral and many social media users have resonded with shock.
One described it as "horrific", adding "worst boss ever". Others said the president should face criminal charges for assault, with another saying that bullying was an ingrained part of Japanese corporate culture, The South China Morning Post reported.
One viewer wrote underneath the video: "The victim here will probably get blacklisted now that he reported this and will have a hard time finding another job, which is probably why he chose to wait and others didn't bother reporting it," SCMP reported.
There are no laws in Japan prohibiting abuse of power for harassment in the workplace. A 2017 study by the Japanese Trade Union Confederation found that 30 percent of people surveyed had been the victim of workplace harassment.
Watch: Corporation Boss Forces Employee's Face Into Hotpot At Office Party | World