Watch: Cruise Ship Off Cuba Coast Caught in Hurricane Michael
Those on board a ship off the coast of Cuba on Monday got a close view of Hurricane Michael which is sweeping towards the United States.
A passenger on board the Empress of the Seas filmed footage of the waves lashing the sides of the vessel and wind battering the deck.
The video taken by Snapper Tams also shows lightning on the horizon as the Royal Caribbean vessel rode the the waves southwest of Cuba's Isla de la Juventud on Monday evening.
Tams said that the vessel had to remain stationary for several hours to wait for the storm to pass through the Yucatan Channel, Kron4 reported.
Early Wednesday, winds had reached 140 miles per hour and were expected to get even stronger as the hurricane strengthened to a Category 4 storm on its way towards Florida.
If it makes landfall, it could be the strongest storm to hit the U.S. this year and the biggest to hit the Florida Panhandle in recorded history, said CNN meteorologist Michael Guy.
Read more: Updated spaghetti models for Hurricane Michael: Will storm hit, Panama City, Destin?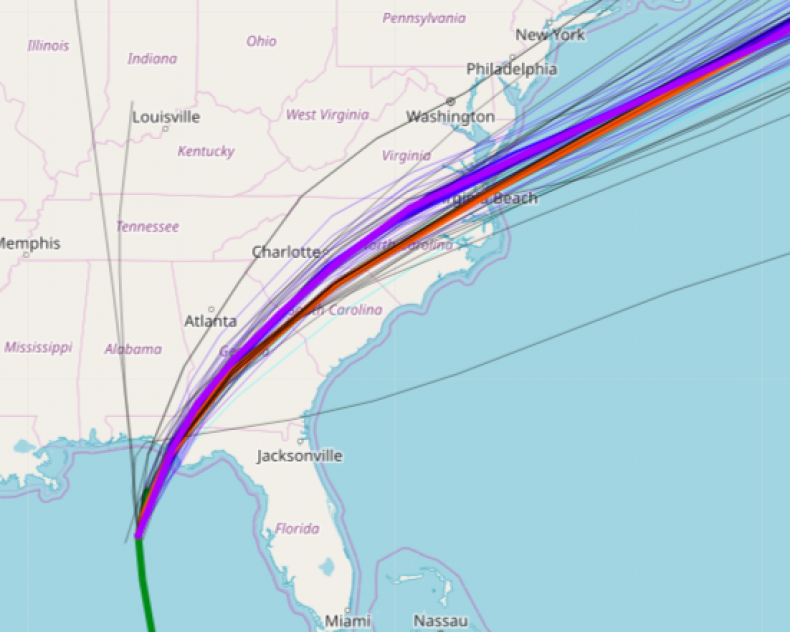 Six airports in Florida have closed and Florida Governor Rick Scott urged people to get out of the way. "This storm is dangerous, and if you don't follow warnings from officials, this storm could kill you," he told a news conference, CBS reported.
There are mandatory or voluntary evacuation orders in place in at least 22 counties on the Florida Gulf Coast. States of emergency are in effect in Florida, Alabama and Georgia. The National Weather Service (NWS) described Michael as "extremely dangerous," and said that lives are at risk.
The National Hurricane Center's latest advisory suggests Michael could produce a life-threatening storm surge as high as 13 feet and dump a foot of rain in some places.
"If you live along the coast and were told to evacuate…this is YOUR LAST CHANCE. Hurricane Michael is an unprecedented event and cannot be compared to any of our previous events. Do not risk your life, leave NOW if you were told to do so," the NWS in Tallahassee, Florida, tweeted.
U.S. Rep. Neal Dunn, whose district includes Panama City, urged people under evacuation orders to get out and pointed out that those on islands off the coast were especially vulnerable.
Watch: Cruise Ship Off Cuba Coast Caught in Hurricane Michael | World