Watch: Crying CA Restaurant Owner Says She's Losing 'Everything' While Mayor Allows Neighboring Movie Set to Stay Open
A restaurant owner in Los Angeles issued an emotional plea to Mayor Eric Garcetti and California Governor Gavin Newsom on Friday, claiming that they banned outdoor dining in her restaurant, but allowed a movie company to set up a dining tent across the street.
In a viral video, Angela Marsden, owner of the Pineapple Hill Saloon & Grill in Los Angeles, fought back tears as she angrily denounced both California leaders for shutting down her outdoor patio amid the COVID-19 pandemic.
At the beginning of the video, which was shared online by prominent conservatives including former GOP House Speaker Newt Gingrich, Marsden explains that she went to her restaurant in order to grab supplies for a protest she was staging against new coronavirus restrictions.
At that point, she says she saw a massive dining tent set up for a movie company, across the street from where her own restaurant dining was shut down.
"I'm losing everything. Everything I own is being taken away from me and they set up a movie company right next to my outdoor patio, which is right over here," Marsden says while fighting back tears. "And people wonder why I'm protesting and why I have had enough."
"They have not given us money and they have shut us down. We cannot survive, my staff cannot survive," she adds in the clip.
Marsden calls seeing the movie tent "a slap in the face," and asked the officials to explain why that could be deemed safe, when her area wasn't.
"Mayor Garcetti and Gavin Newsom [are] responsible for every single person that doesn't have unemployment, that does not have a job, and all the businesses that are going under," she says.
By Saturday morning, the video had already gained 4.8 million views.
"This is the most heartbreaking thing I have watched in 2020. These people are monsters. Wow," Benny Johnson, a Newsmax host, wrote on Twitter.
Gringrich reshared Johnson's tweet, writing that the video was "tough to watch."
"You have to feel for these folks in CA on the hypocrisy," he said.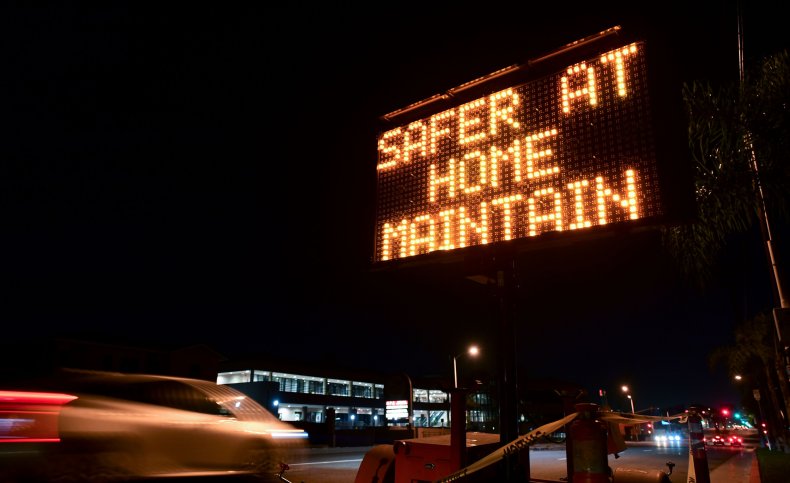 NBC Los Angeles reported that Los Angeles County voted to ban outdoor dining for three weeks beginning on November 25, an order that has since been met with legal backlash after a county judge ruled that officials must produce scientific evidence to justify their ban.
But the court ruling gave little success to bars and restaurants. On the same day, Garcetti issued a strict stay-at-home order, according to Fox 11 Los Angeles, mandating that all bars, hair salons, barbershops, casinos, and indoor and outdoor playgrounds to shut down.
The order allows other businesses, including film production and fitness centers that operate outdoors, to remain in operation, KABC reported.
At the end of the video, Marsden pleads with state officials to help restaurants and businesses in need.
"We need your help. We need somebody to do something about this," she says tearfully.
Newsweek reached out to Garcetti and Newsom for additional comment, but did not hear back in time for publication.