The day in the life of a Minnesota wolf, as it forages and hunts for prey in the brutal heat of the summer, has been captured on film.
The video was shot by a research group called the Voyageurs Wolf Project, which tracks wolf packs living in the Voyageurs National Park in northern Minnesota, during the summer months. It captured everything one lone wolf did at five minute intervals, from morning to evening on a hot day in June 2021.
In Voyageurs National Park, there are between 30 and 50 wolves, split between six to nine packs.
The wolf—which had a camera attached to its collar—can be seen stalking long distances, foraging and searching for food in the intense heat. It can be seen running through the wilderness before it begins to sniff at the ground and dig. Later on in the video, it settles down to sleep.
In the winter, researchers know that wolves hunt large prey and keep to their packs. However once pups are born in the spring, the animals become more solitary and their behavior during this time is not widely documented—something the Voyageurs Wolf Project is hoping to change.
Thomas Gable, project lead of the Voyageurs Wolf Project and PhD researcher at the University of Minnesota, told Newsweek that in densely forested environments like this, it is impossible to watch or observe a wolf going about its life during the summer.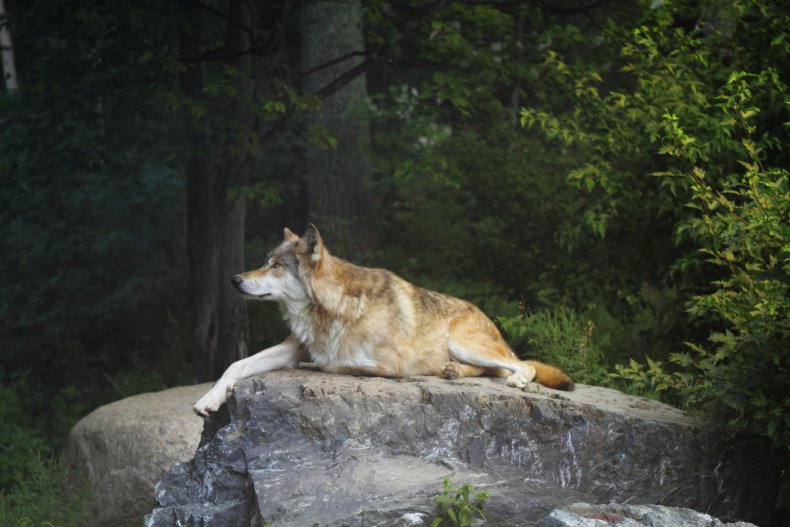 "Typically, when you see a wolf it is for a fleeting second as it runs across a road or trail. However, by using new technology we are able to finally watch this wolf go about its life," he said. "In doing so, we can observe the ups and downs of being a wolf: the challenges of traveling long distances for several hours before resting in the heat of the day...the annoyance of dealing with the ticks, mosquitoes, black flies, and deer flies that make being northern Minnesota summers brutal at times, and the success of hunting, killing, and consuming a deer fawn. In other words, we see that wolves, like all wildlife, have tough lives in their unique way."
Gable said on this day, the wolf endured "brutally hot" temperatures, hitting 91 degrees Fahrenheit.
In the full video, which can be found here, you can see the wolf tearing apart a deer and consuming it. The Project said on Facebook that although the wolf made a kill on this day, wolves usually go between three to five days before eating again.
Gable told Newsweek that while there is nothing particularly "scientifically novel" about the wolf's behavior in the video, it offers a one-of-a-kind opportunity to witness them from a unique perspective.
"Scientists have known that wolves travel long distances, sleep, and kill deer fawns for a long time. The novelty in this video is being able to observe these behaviors, especially from the wolf's perspective," he said.
Another main aim of the Voyageurs Wolf Project is to share what the lives of wolves are like with the public.
"We often do this by sharing remote camera videos or other insights from our research," Gable said. "However, after getting this camera collar footage back and going through it, the idea dawned on us: there is no better way to show what life as a wolf is like than by literally sharing an entire day's worth of footage from a wolf's perspective."