Video: 'Disturbing' Clip Sees Unconscious Florida Woman Fall Out and Dragged Back Into SUV
Florida police are investigating after shocking surveillance footage captured an apparently unconscious woman falling out of a moving SUV, before being dragged back inside.
Hillsborough County Sheriff's Office released the "disturbing" footage of the Ford Expedition driving through the intersection at E 131st Avenue and N 15th Street in Tampa, Florida, as a woman falls from the back and lies motionless on the road.
The department released the footage in order to appeal for help from the and in order to "determine [the] well-being" of the woman.
After stopping the vehicle, the video then shows a man getting out of the driver's side to pick up the woman, before placing her limp body inside the SUV and driving off.
Police later confirmed they located the Ford Expedition seen in the clip at Texaco station on North Nebraska Avenue and Fowler Avenue following a "tip from the community."
Two people who were in the SUV when it was found have been questioned—but not arrested— by police in connection to the footage, although detectives are still unable to say what happened to the woman.
"This is a developing situation and we will put out more information as soon as we can," the department said in a statement.
One of those in the SUV was a female, although it unclear if she is the same one seen in the clip released by the sheriff's office.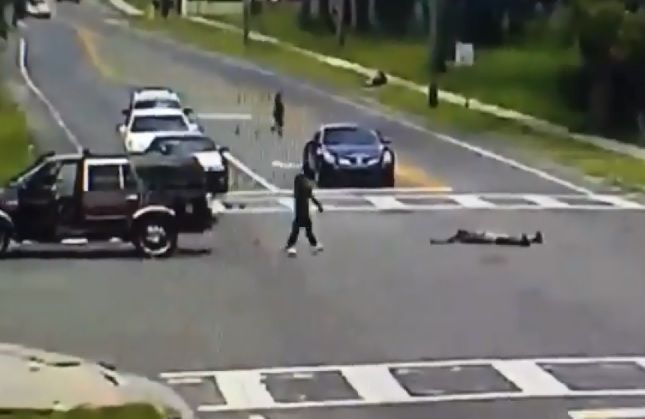 Officials said they checked local hospitals and the nearby University of South Florida during their attempt to identify the woman.
Detectives are also speaking to the owner of the Ford Expedition.
"We don't believe the owner was the person driving the vehicle," sheriff's spokeswoman Cristal Nuñez told the Tampa Bay Times.
Anyone with information is asked to call the Sheriff's Office at (813) 247-8200.
This is a developing story and will be updated as more information becomes available
Video: 'Disturbing' Clip Sees Unconscious Florida Woman Fall Out and Dragged Back Into SUV | U.S.