Watch Dog Groomer's Step-by-Step Process for Turning Poodle Into Dalmatian
Footage of a professional dog groomer "turning" their pet poodle into a Dalmatian has received 1.6 million views online.
In the video shared to TikTok by @galactic.beauty, Nova's owner uses hair dye to recreate a Dalmatian's famous spots, seemingly transforming the white poodle into a different breed.
"I've always wanted a Dalmatian," wrote @galactic.beauty in the video captions. "Let's turn Nova into one."
Showcasing the step-by-step process, the groomer begins by putting Nova in the bath on top of a towel. They then mix the Opawz brand dye, which is a mixture specially formulated for pets.
Using brushes of different sizes, they carefully paint Nova's fur with black splodges.
"Be super careful using dye around the eyes," they said. "I always leave a ½ inch space."
Nova then sits patiently in the tub while the dye sets, with her owner feeding her treats.
Once the pattern is ready, @galactic.beauty uses a shower nozzle to wash off the dye, stopping only after the water runs clear.
Next, they use a deep-cleansing shampoo to remove any remaining product, before drying Nova's fur with a force dryer. They then give Nova's fur a brush and spray her with pet cologne, before adding a bandana.
TikTokers couldn't get enough of Nova's makeover, with the cute clip receiving more than 186,000 likes.
Is It Safe to Dye Your Dog's Fur?
When it comes to dying your dog's coat, experts are split on whether it's a good idea. Animal charity PETA denounces the practice, calling it "nonsensical" on its website, while professional grooming service WashPaw says it is safe, as long as pet-friendly hair dye is used.
Dr. Jeff Smith, medical director at Danville Family Vet in Virginia, said it is harmless to color your dog's fur, as long as the materials you use are suitable and correctly formulated for pets. Otherwise, they could experience chemical burns or accidentally ingest harmful toxins.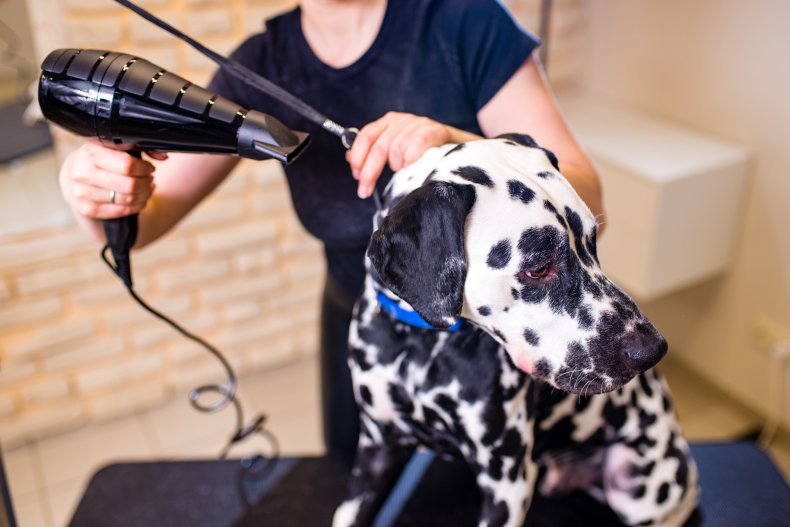 "It is safe to use a hair dye on your dog's hair just as you would on your own hair," he told Newsweek. "Paints, stains and other products that you might buy at a hardware store can be very toxic and harmful to a dog's skin and to their health in general."
It's also important to take each individual animal's comfort level into consideration. Some dogs might be perfectly happy to sit for hours while a groomer dyes their fur, while for others, it's their worst nightmare.
Some breeds, such as Pekingese, Shih Tzu and Bichon Frise, are generally more difficult to groom, making the process harder for inexperienced dog owners.
'Dalmatian DOOPE'
TikTok users loved Nova's new look, with Fi•bi calling the make-over "way tooooo cute."
"You did a wonderful job!" agreed the.bohemians.wife.
"When the sign says no poodles allowed so you go in disguise," said Auntie Erin.
"Backyard breeders: it's a full bred dalmoodle," joked 4444Gabriel4444.
"Dalmatian DOOPE," wrote issanapper.
"Looks cuter and friendlier than my dalmatian," said Bell.
While Hop On The Traumatic Train commented: "I love that you're so well educated and safe when using dyes. You're great at keeping your dog safe and of course happy."
Newsweek reached out to @galactic.beauty for comment. We could not verify the details of the case.
Do you have funny and adorable videos or pictures of your pet you want to share? We want to see the best ones! Send them in to life@newsweek.com and they could appear on our site.