Video: Dog Rescued Alive From Burnt-Out House a Week After Greece Fires That Killed Over 90 People
Footage has emerged of the moment a dog is discovered amid the rubble of the devastating wildfires that have ravaged Greece.
The death toll from the fires, which swept through the outskirts of Athens, has reached at least 91 with around 25 people still missing and 200 people injured, ABC News reported.
But in a small piece of good news, a matted dog who had sought refuge from the flames for nearly a week, was spotted cowering in a burnt-out room before being coaxed out.
Animal volunteer Artemis Kyriakopoulou, who took part in the rescue and shot the video said (via keeptalkinggreece.com): "We found this creature in a burned out furnace room.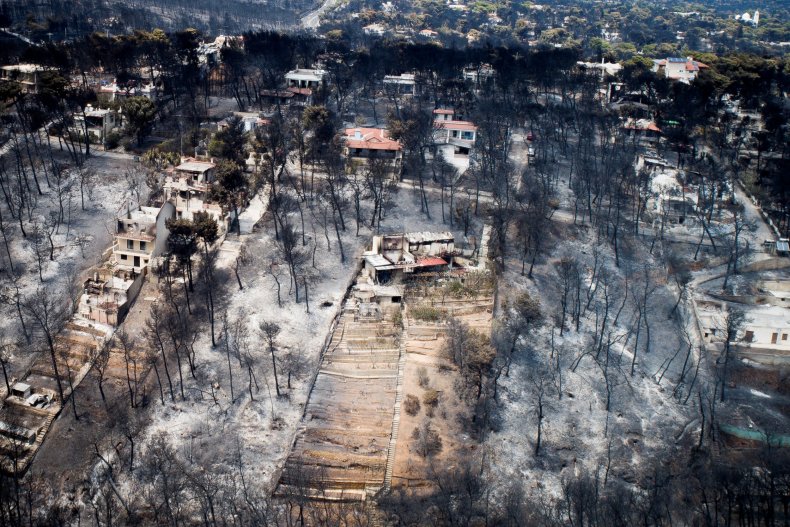 "After two and a half hours, we managed to catch the dog and his brother who is in better condition and carry them together with Vets4Life to the clinic."
Dive teams have been scouring the sea off the coasts of Mati, Rafinia, Neos Voutzos and Kokkino Limanaki, which have been the areas worst affected by the blazes that started in forest areas on July 23 and are the deadliest of their kind in Europe since 1900.
Another video has emerged showing a rescuer helping a young woman and child at Mati, where dozens of people were killed.
The footage on the Greek news website Prothema shows the rescue units removing young children and women to safety who have fled to the beach.
Greek Prime Minister Alexis Tsipras has visited Tati as criticism mounts against the Greek government over its response to the disaster.
He tweeted: "Unspeakable grief and infinite respect for all those who waged an uneven battle with the flames, and are now waging the battle of restoration."
Criticism centers on the layout of buildings and lack of preparation for fire season.
Tsipras said he would accept political blame for the disaster and announced a crackdown on shoddy building work, which is believed to have contributed to the blaze.
Video: Dog Rescued Alive From Burnt-Out House a Week After Greece Fires That Killed Over 90 People | World