'Watch Dogs Legion' Allows Players to Recruit Anyone to Join the Resistance
After being leaked and announced ahead of its official E3 conference, Ubisoft revealed the first official gameplay footage and details for its latest addition to the Watch Dogs franchise, Watch Dogs Legion.
Set in an authoritarian, near-future London where people are treated more like captives than citizens, it'll be up to you to build your own resistance group. The key feature of Watch Dogs Legion is you'll be able to recruit and play as anyone. Every Londoner is fully simulated, voice acted and animated.
Cutscenes will change depending on who you recruit and play. There are a lot of people to choose from. You can recruit ex-spies, boxers and even grandmas. Each person has unique skills and abilities, stealthy assassins to drone and robotics experts.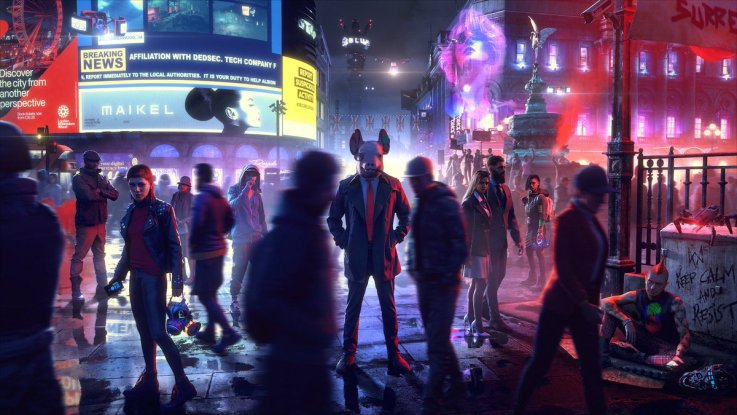 Permadeath adds to the strategic complexity of Watch Dogs Legion. You can lose a recruit forever if they fall. Throughout the game, you'll also have the option to use lethal or non-lethal force.
Take a look at the reveal trailer for Watch Dogs Legion above.
Each member of your legion will have unique perks, which you can customize to your playstyle. Level-up each character within classes to unlock more skills. Some of the classes include Hacker, Infiltrator and Assault. Outfits and masks will enrich your customization and enhance your strength.
A new melee system and a wide range of weapons and abilities allows players to fight the way they want. However, enemies will attempt to subdue and arrest you if you use non-lethal force.
Players can team up with as many as three friends online to explore the world of Watch Dogs Legion and take on new co-op missions and challenging end-game content. Ubisoft will have free regular updates with new online modes, rewards and themed events.
Watch Dogs Legion is available for pre-order now, and will drop March 6, 2020 for Xbox One and PS4.
What did you think of the Watch Dogs Legion gameplay footage? Let us know in the comments section below.
'Watch Dogs Legion' Allows Players to Recruit Anyone to Join the Resistance | Gaming