Watch a Dolphin Baby Being Born at Chicago's Shedd Aquarium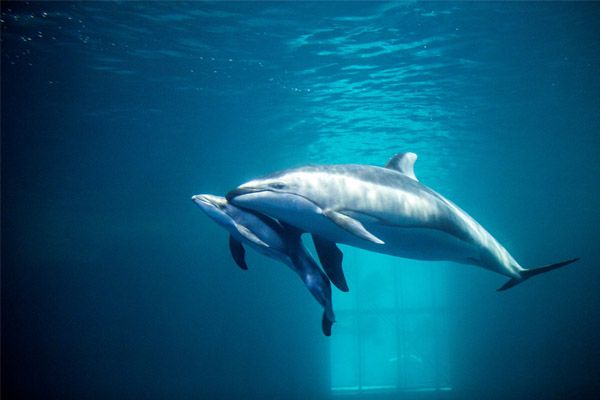 Katrl, a Pacific white-sided dolphin living at Chicago's Shedd aquarium, recently gave birth to a baby, a sight that has never been observed in the wild. The labor itself took three hours and 12 minutes, and it increases the relatively small population of this species at accredited North American zoos and aquariums to 16.
Pacific white-sided dolphins reach a length of more than 7 feet and weigh over 300 pounds, and are found in temperate and cool waters from the U.S. West Coast to Japan. The new baby (still unnamed) measures approximately 3 feet long and weighs about 25 pounds, according to Shedd.
"To watch a dolphin be born is beautiful, but to also see its natural instincts fully take over in a matter of seconds as it kicks its tail to propel its little body to the surface to take its first breath is overwhelmingly emotional," said Lisa Takaki, senior director of marine mammals at the aquarium, in a statement.
After the baby is born, the mother can be seen guiding the calf back to the surface. Mom and baby will spend the next weeks bonding and nursing, and to facilitate this, the aquarium will keep the exhibit closed until further notice.