WATCH: Dolphins' 'Miami Miracle' Double-Lateral Game-Winning Touchdown Upsets Patriots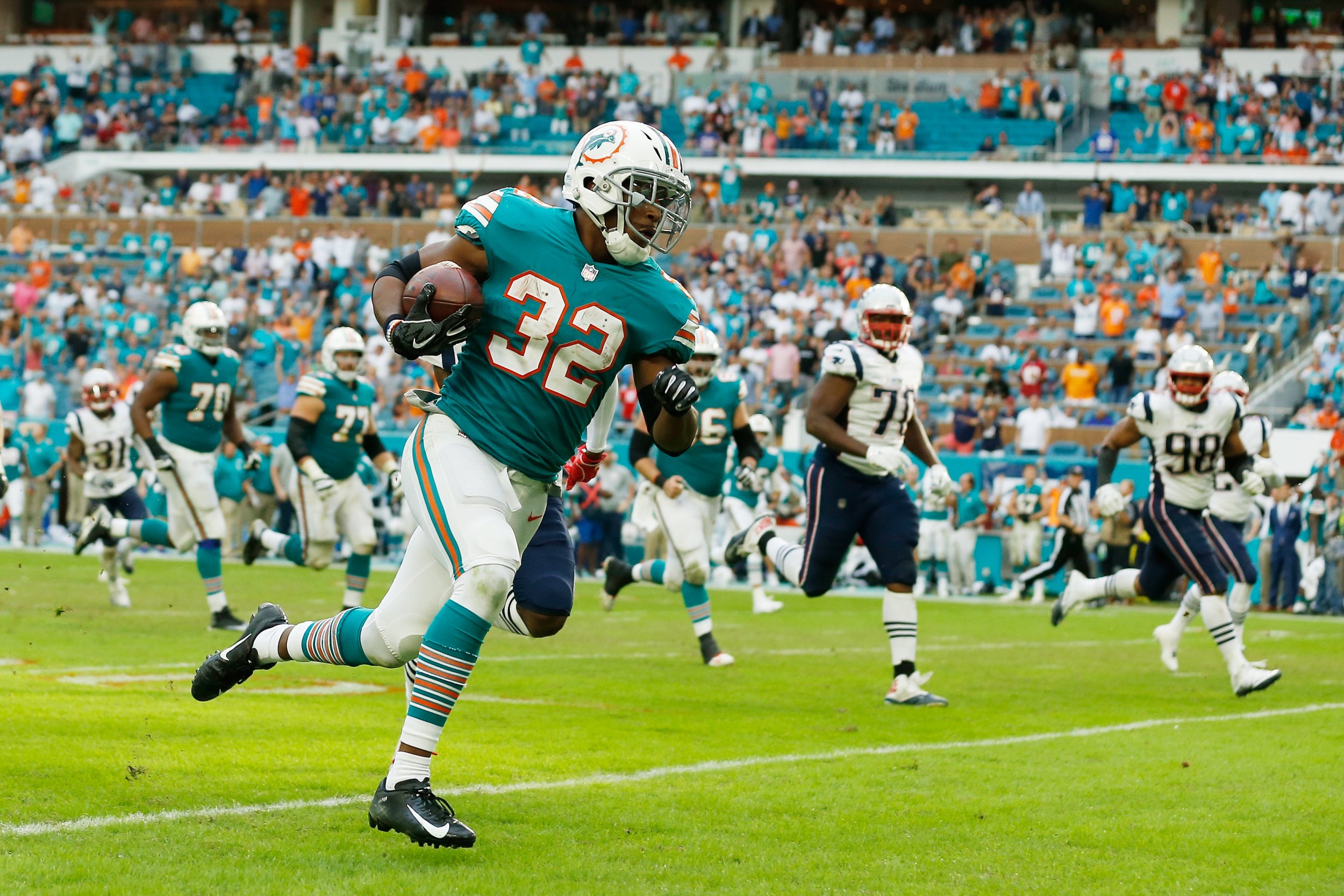 The Miami Dolphins pulled off a major upset against their AFC East rival, the New England Patriots, on Sunday at Hard Rock Stadium.
Trailing 33–28 with 0:16 remaining in the fourth quarter, quarterback Ryan Tannehill connected with wide receiver Kenny Stills, who lateraled to DeVante Parker, who lateraled to running back Kenyan Drake, who proceeded to run 55 yards for a game-winning touchdown on a play dubbed the "Miami Miracle" by play-by-play man Ian Eagle.
Drake evaded several would-be tackles, including Patriots tight end Rob Gronkowski, who came in as an extra defender to bat down a potential Hail Mary pass and tripped while attempting to tackle the running back on a bad angle.
"That was the last part of the play that was scripted when I got the pitch. It was sandlot football," Drake said. "It was just me and Gronk. I couldn't let Gronk tackle me in that situation. I said, 'look, sorry Gronk.' He's a great player but I got somewhere to be."
"Drake runs a 4.3 and Gronk probably runs a 4.6 or 4.7, so I feel good about that matchup," Dolphins quarterback Ryan Tannehill added. "There's no quit in me. There's no quit in this locker room."
Miami head coach Adam Gase and several players revealed that the play was called "Boise" in honor of Boise State's famous hook-and-ladder game-tying touchdown in the 2007 Fiesta Bowl against Oklahoma.
"We have something for those type of situations. We work on it every Friday and Saturday," Gase said. "It's boring because you might go three years without calling one of them. But these guys stuck with it and they executed that one for sure."
Several players also mentioned that they worked on the "Boise" play every week, including during last Friday's practice.
The 69-yard touchdown was the longest game-winner with no time remaining in regulation during the Super Bowl era, according to Elias Sports. Miami kept its playoff hopes alive with the victory, extending its winning streak to two games.
New England would have clinched its 10th consecutive AFC East Division title with a win, but will now have to do so with by winning one of in its remaining three games, along with a Dolphins loss.
New England quarterback Tom Brady finished Sunday's game with 358 yards and three touchdowns on 27-of-43 passing. Brady connected with three different receivers for scores: Julian Edelman on a 2-yard pass in the second quarter, Cordarelle Patterson on a 37-yarder and Gronkowski on a 16-yard reception.