Watch: Don Lemon Slams Trump After CNN Receives Death Threats Over 'Fake News,' Asks President 'What Grade Are You In?'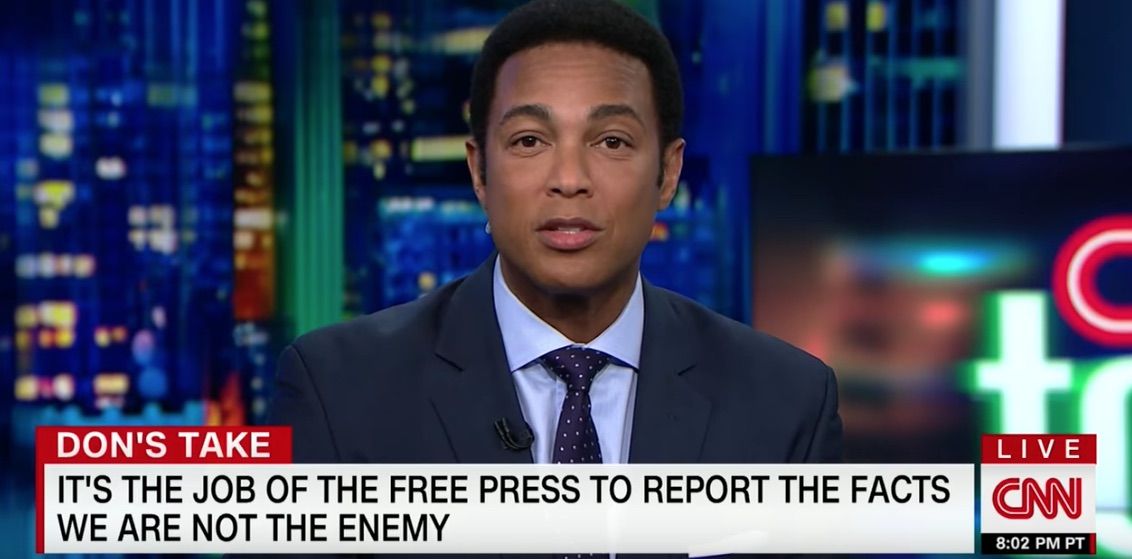 Updated | After it emerged that a man had been arrested for calling CNN's headquarters to make death threats, veteran network anchor Don Lemon directly appealed to President Donald Trump Tuesday night.
Brandon Griesmer, 19, appeared in federal court Friday for allegedly making 22 calls to CNN's Atlanta offices. In the calls he said CNN was "fake news" and told the network "I'm coming to gun you all down," The Guardian reports.
On Tuesday, Lemon said the story was one that "hits close to home" and declared: "This is what happens when the president of the United States, Donald Trump, repeatedly attacks members of the press simply for reporting facts that he does not like."
Lemon pointed out that Trump attacked CNN's Jim Acosta on Twitter just earlier Tuesday. Trump has also slammed Lemon himself in social media tirades.
Newsweek subscription offers >
Lemon said that Trump's "fake news" rhetoric was having dangerous consequences for members of the media whose lives are being threatened by people who believe his claims that the press is dishonest.
Speaking directly to Trump, the news anchor said: "We are not the enemy. We are not trying to silence you. It is the job of the free press to report the facts, to ask questions—tough questions, ones you don't like. No matter how many times you attack us as 'fake news,' we will continue to do our jobs."
Lemon said Trump's "fake news" claim is a "baseless and incendiary charge" and the president should be "aware that people are listening to you—some very dangerous people."
Newsweek subscription offers >
Griesmer echoed Trump's "fake news" phrase in threatening phone calls to CNN, Lemon said. "I wonder where he got those words?" he asked.
The CNN anchor described Trump's previous tweets attacking CNN—including a doctored video of the president physically pummeling the CNN logo—as "childish." He added: "What grade are you in?"
"If one of us is hurt, or, God forbid, something else in some way or another, either because you don't understand the power of your words and/or you don't care, it won't be a fake injury or a fake death," Lemon said. "It'll be real. How will you answer those questions then? Not only from journalists, but from our loved ones, because you're going to have to do it."
Earlier this month, Lemon spoke out against Trump, calling the president "racist" in response to claims that he referred to some countries as "shitholes."
Correction: An earlier version of this story misrepresented the timing and substance of Don Lemon's commentary regarding President Donald Trump allegedly calling some countries "shitholes." Lemon made the remarks earlier this month, and they were not in reference to specifically African nations.
Watch: Don Lemon Slams Trump After CNN Receives Death Threats Over 'Fake News,' Asks President 'What Grade Are You In?' | Culture