Watch: Donald Trump Leaves Melania Hanging Outside White House During Czech Leader's Visit
President Donald Trump created an awkward moment for first lady Melania Trump and Monika Babisova, the wife of Czech Republic Prime Minister Andrej Babis, when he appeared to leave them hanging outside the White House on Thursday.
In a video of the guests' arrival, President Trump greeted Babis and Babisova after they stepped out of a black car, then led Babis inside as Melania Trump stepped in the other direction, seemingly waiting for the traditional photo opportunity before going into the White House. Babisova stood back with Melania Trump and the two women shrugged before following their husbands in.
The four appeared to pose for a photo opportunity in another part of the White House.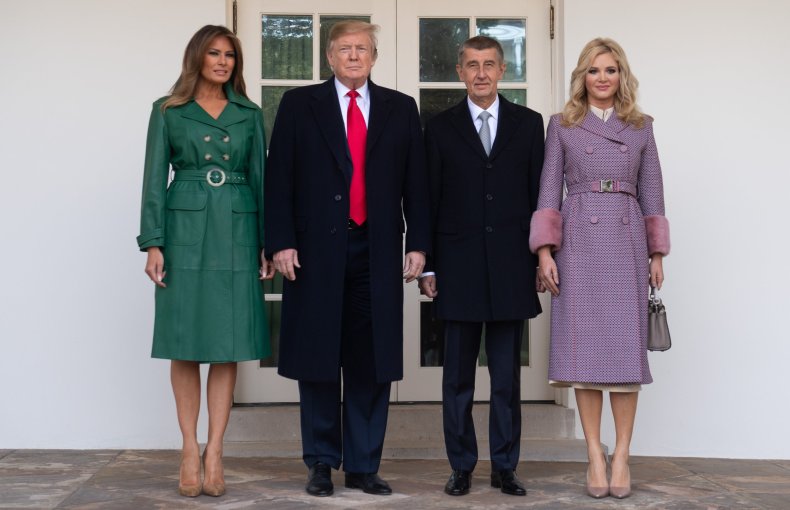 Melania Trump and Babisova joined their husbands in the Oval Office for a meeting that is expected to touch on topics ranging from trade and the North Atlantic Treaty Organization (NATO) to Syria to cybersecurity.
President Trump has been criticized on social media for appearing to forget about his wife before. On his inauguration day, Donald Trump walked up to greet President Barack Obama and first lady Michelle Obama without waiting for Melania Trump, who exited the other side of the vehicle, to catch up.
In January 2018, Trump covered himself with a big umbrella while boarding Air Force One at Palm Beach International Airport, but left Melania Trump and their son Barron Trump to their own devices. It is unclear whether it was raining, but the wind blew through the first lady's hair.
Last October, President Trump was photographed holding an umbrella over his head while speaking to reporters, leaving his wife without cover in the rain.