Watch: Donald Trump Portrayed As Belly Dancer Covered in Dollar Bills on Turkey's TV
As the relationship between the U.S. and Turkey continues to deteriorate, one Turkish late-night television program featured a woman in a Donald Trump mask dancing as the television presenter throws dollars at her.
"As Turkey blames @realDonaldTrump for intentionally raising the dollar to cause the lira to fall (in the hopes to hurt Turkey's economy that he's jealous of - allegedly), night-time Turkish TV has a belly dancer wearing a Trump mask that the presenter pins dollars on. Yes, really," a journalist watching the program tweeted on Tuesday.
The dollar has become a symbol of the escalating diplomatic crisis between the two countries, which is taking place as the Turkish lira rapidly loses value. Turkish President Recep Tayyip Erdogan has blamed outsiders for the country's economic woes, and experts told Newsweek on Friday that Turkey's pro-government media is spreading the theory that there has been a "monetary coup" launched against Turkey from abroad.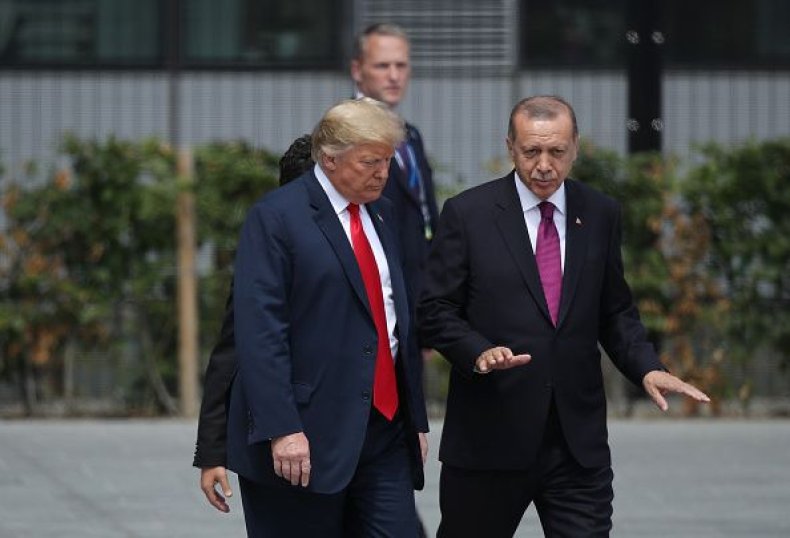 This conspiracy theory was bolstered by President Donald Trump's decision to impose steep tariffs on steel and aluminum from Turkey because Ankara refuses to release American pastor Andrew Brunson, who was arrested in the country in 2016.
Reports have suggested that the two leaders struck a secret deal on the sidelines of a NATO summit in July, in which Turkey agreed to release Brunson while Trump ensured to help Erdogan achieve the release of a Turkish citizen who was arrested in Israel for allegedly being linked to the Palestinian organization Hamas. Israel recently released the Turkish woman it had in custody, after which Turkey moved Brunson from jail to house arrest. This allegedly angered Trump enough that he imposed tariffs on Turkish goods.
"I have just authorized a doubling of Tariffs on Steel and Aluminum with respect to Turkey as their currency, the Turkish Lira, slides rapidly downward against our very strong Dollar!" Trump tweeted on Friday.
In response, Erdogan has asked Turks to cash in their dollar reserves for lira. "Don't forget, if they have their dollars, we have our people, our God," he told supporters during a rally. He also asked nationals to begin boycotting American appliances and accused Trump personally of stabbing Turkey in the back.
The Turkish lira had already lost around 45 percent of its value in 2018, but Trump's tariffs only helped exacerbate the problems. Nevertheless, the country's leadership has refused to raise interest rates despite growing inflation. Some world leaders have called on Erdogan to abandon his opposition to raising interest rates to stem the crisis that could spill into international markets.