Watch: Donald Trump's Hair Flaps in the Wind, Revealing His Scalp, and Real Hairstylists Share Their Expert Opinions on 'Kimmel'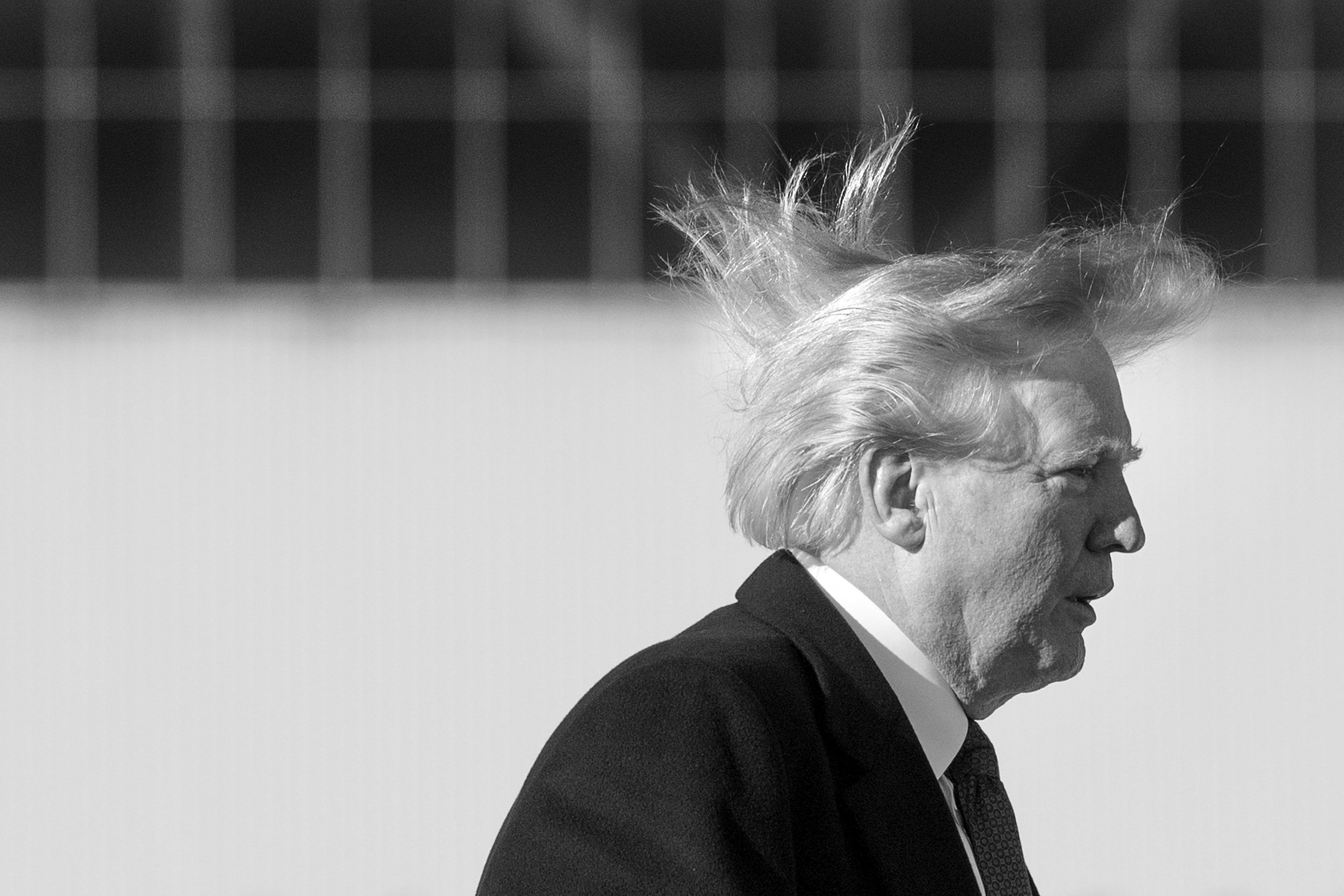 OK, once you see this footage, you'll never be able to unsee it. So, like the blue pill and the red pill in The Matrix, make your choice now. Because there's no turning back.
On Wednesday, footage circulated of President Donald Trump's hair flapping in the wind as he boarded Air Force One last Friday. The windy conditions caused Trump's famous mane to become disheveled, revealing what appears to be significant bald patches.
Jimmy Kimmel played the footage in slow motion on Wednesday's Jimmy Kimmel Live and joked that Trump was "headed to Mar-a-Lago for the weekend, and his hair tried to fly to Mar-a-Lago on its own."
"This is why Darth Vader had the good sense to wear a helmet," Kimmel said.
And he was not alone in making Star Wars comparisons. Twitter users also drew a likeness between Trump and villain Darth Vader, who, under his famous helmet, is bald.
Trump got a roasting on Twitter after the clip went viral, with Kumail Nanjiani, the Oscar-nominated writer of The Big Sick, succinctly tweeting that it was the stuff of nightmares.
See some of the hilarious reactions below:
Back on Jimmy Kimmel Live, the comedian decided to get actual hair stylists to evaluate Trump's mane, which has long been a source of media speculation about whether it is real or a hairpiece.
Here are some of the reactions from the professionals:
Sarah: "Ooh, someone did not glue that down tight enough."
Leandro: "That's a bad weave. He needs some closure or something."
Wilbert: "That looks like the backside of a dog."
Deontae: "That needs to go. That looks like the behind of an ostrich."
On Late Night With Seth Meyers on NBC, Meyers introduced a new segment, "Let's Get Petty," where he spent a full minute making cracks about Trump's hair.
The highlights of the segment included Meyers saying: "Wow, dude, I guess there's one draft you couldn't dodge. You thought CNN was giving you bad coverage. It's like a mullet except no one showed up to the party in the back."
In August 2015, during an election rally, Trump insisted his hair was real and invited a member of the audience to come up and cop a feel to verify it isn't fake.
"I don't wear a toupee. It's my hair. It's my hair. I swear," he said.