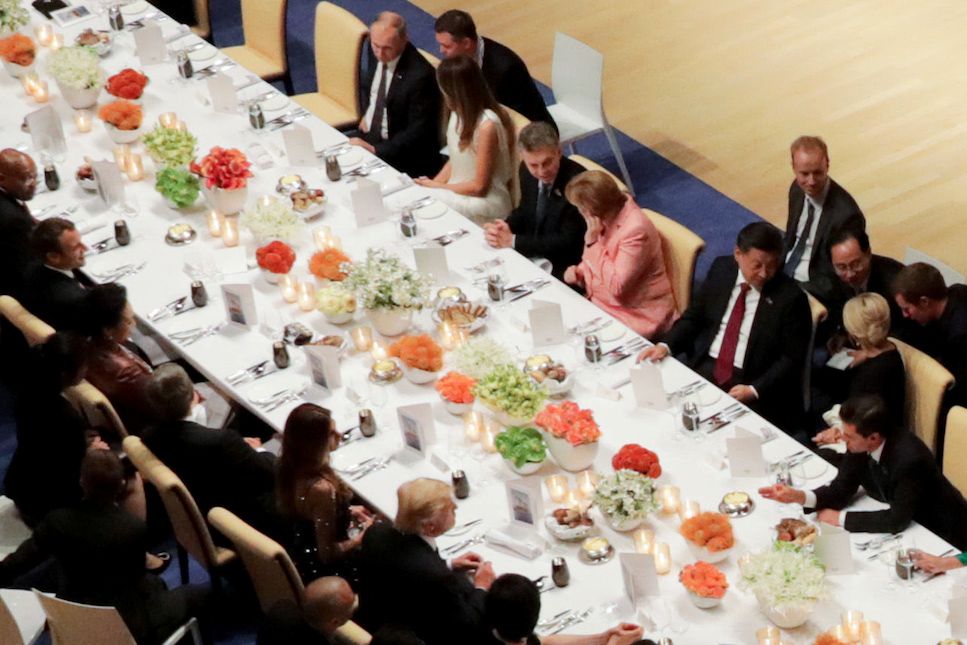 On Tuesday Americans learned President Donald Trump held a second, undisclosed nearly hour-long meeting with Russian President Vladimir Putin. Now broadcasters have shown footage ostensibly of Trump gesturing to Putin before the meeting.
In a clip from MSNBC President Trump appears to be trying to get Putin's attention while seated at a table with the leaders of the world's G20 nations and their spouses. Trump points at Putin and then points at himself and shakes his fist in a side-to-side motion.
It's not clear what Trump's gestures meant.
On Wednesday Trump explained that the meeting only happened because Putin was sitting beside First Lady Melania Trump throughout the dinner. Trump told The New York Times Wednesday that the two men had discussed adoption—an issue closely linked to U.S. sanctions against Russia.
On July 7 during the G20 Summit in Hamburg, Germany, Trump and Putin spoke for more than two hours in a scheduled conversation that overran its 30-minute slot. During this talk Trump confronted the Russian president on whether the Kremlin interfered in the U.S. election and sought collaboration in the Syria conflict.
Trump at first said that the U.S.'s sanctions against Russia were not part of the discussion. The White House deputy press secretary Sarah Huckabee Sanders later contradicted him saying that they were. In 2014, the U.S. sanctioned Russia for its invasion of the Crimean region of Ukraine and President Barack Obama imposed further sanctions late 2016 after America's intelligence agencies found evidence Moscow interfered in the 2016 election.
"Toward dessert I went down just to say hello to Melania, and while I was there I said hello to Putin. Really, pleasantries more than anything else," Trump told The New York Times. "It was not a long conversation, but it was, you know, could be 15 minutes. Just talked about—things. Actually, it was very interesting, we talked about adoption."
Read more: Putin is helping Trump because he wants to protect his secret stash of money, businessman claims
In 2012 Putin retaliated against the U.S. after Congress passed the Magnitsky Act which allowed the U.S. to freeze the assets of Russians involved in the arrest and death in custody of Russian lawyer Sergei Magnitsky. Magnitsky was investigating tax fraud involving wealthy Russians and tax officials. Six months after the U.S. implemented the sanctions, Russia stopped American adoption of Russian children.
Adoption and the sanctions was also the topic of conversation in a secret meeting last June between Donald Trump Jr. and members of Trump's campaign team with a Kremlin-tied Russian lawyer. Trump Jr. was told that the lawyer had information as part of a Kremlin plan to help Trump win the election. During the meeting the lawyer offered the campaign damaging information on presidential candidate Hillary Clinton in exchange for help lifting the Magnitsky Act sanctions. American investor Bill Browder has alleged Putin had a vested interested in the meeting, suggesting that Putin's personal fortune is affected by those sanctions.
World leaders at the G20 dinner who witnessed the conversation between Trump and Putin found it "unusual," according to Ian Bremmer, head of Eurasia Group, a political risk consulting firm, and an NYU political science professor who said he has spoken to two people who were at at the July 7 dinner. Bremmer said the conversation between the U.S. and Russian leaders went on for nearly an hour and that no other American officials were present and the two men spoke through Putin's Russian translator.
The White House has not provided a read-out of what Putin and Trump discussed. On Tuesday, officials said in a statement that "there was no 'second meeting' between President Trump and President Putin, just a brief conversation at the end of a dinner."
"The insinuation that the White House tried to 'hide' a second meeting is false, malicious and absurd," White House press officials added.
President Trump tweeted on Wednesday that it is "sick" his second meeting with Putin is being "made to look sinister."