Watch Dramatic Thunderstorm Video Filmed From Space Over Italy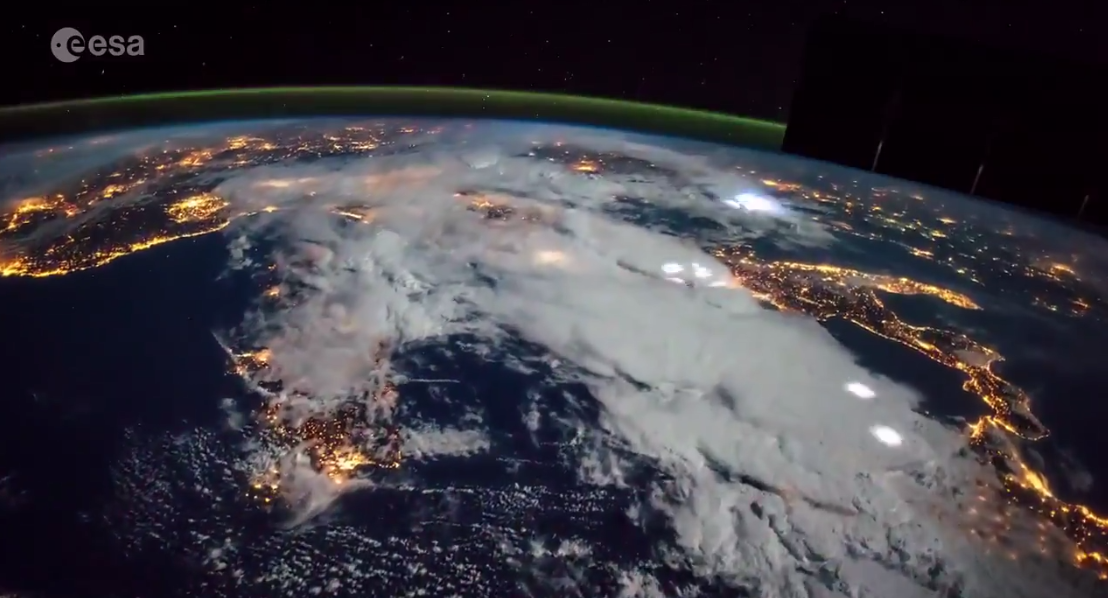 The Earthbound majority of the world's population can't see firsthand what our planet looks like from space. But in recent years, astronauts manning the International Space Station (ISS) have offered a glimpse with photos and videos they snap from their unique perch and share on social media. On Saturday, the Italian astronaut Paolo Nespoli tweeted a dramatic video of violent storms raging over his home country.
"A timelapse of the storm that hit #Italy a few weeks ago," he wrote. "Keep watching until the end of the video... Every cloud has a silver lining!" The silver lining he appears to be pointing out is the stunning glow of the horizon in shades of green and blue, which grow bigger and turn whiter and brighter as the video comes to an end.
Italy has seen intense storms more than once in the last two months, following a heat wave in early August. The AFP described violent storms at the end of the first week of August, with powerful winds, lightning, and a mudslide. At least three people were killed in accidents, including two by falling trees and one who was struck by lightning while hiking up a mountain path.
Though he doesn't say so explicitly, it's more likely Nespoli was referring to the rainstorms that swept across Italy earlier this month. Those caused severe flooding in the Tuscan city of Livorno, where it killed at least six people and hit other cities such as Pisa and Rome, where tube stations flooded and underpasses were closed.
"The tropicalisation of the climate is causing an increase in extreme weather events, with heat waves, heavy cloud bursts and violent hailstorms," Coldiretti, Italy's main agricultural organization, told the AFP at the time.
Recent weeks have brought far too many opportunities for astronauts to see from space storms that have wreaked havoc on those in their paths. They captured images of a slew of recent catastrophic hurricanes, from Harvey to Irma to Maria. The storms might look distant and majestic from above, they have caused death and devastation below.
Nespoli, for example, tweeted a collage of images of Irma, because "one image wasn't enough for what may be the most powerful Atlantic Ocean hurricane ever," he wrote. "Stay safe down there."
NASA astronaut Randy Bresnik shared a photo of Irma as well and added, "tonight, far too many people in #Irma's path and in its wake."
Less than two weeks earlier, Bresnik tweeted several with images of Hurricane Harvey. "The destructive power beneath the clouds of Hurricane Harvey ruins any thought of the beauty of the cloud formations from above," he wrote. Two days later, he said the storm was "still a menace! Hearts & prayers go out to families, friends, & fellow Texans dealing with this storm."
Most recently, Bresnik described Hurricane Maria: "Another hurricane huge on the horizon, amazing cloud formations radiating out as we speed by on @Space_Station." Nespoli shared an image of Maria as well, writing that "even from here it takes up all the horizon. Stay safe, our thoughts are with you."