Video: Dubai Airport Welcomes Saudi Jet With Water Cannon Salute, Breaks Plane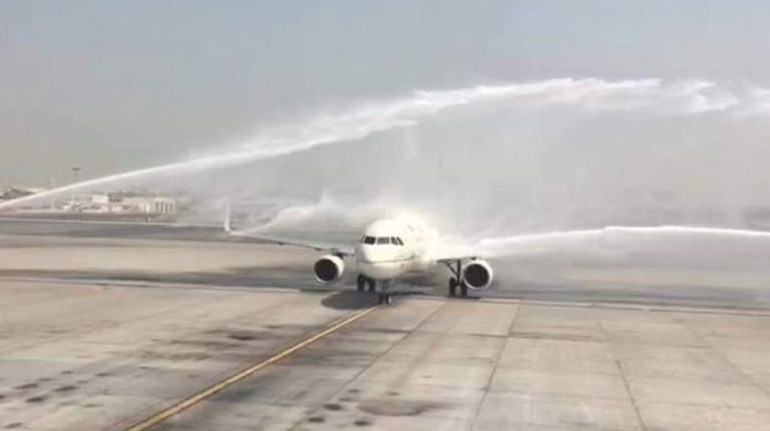 Attempts by firefighters on the ground at Dubai International Airport to welcome a Saudi jet on the country's national day backfired spectacularly, breaking the plane and injuring a passenger, as they showered it with a salute from their hoses.
Footage shared by local Msdar News has shown the moment, in fall last year, that hoses on one of two fire engines malfunctioned as they attempted to form an arch of water over the Saudi Arabian aircraft.
Shared on Twitter, the video shows that initially the malfunctioning fire engine sends the gushing water high in the air. The stream of water then comes slamming down on the plane near a hatch on the jet's left side.
In a statement by the United Arab Emirates' General Aviation Authority (GAA), reported by the the local Khaleej Times, the aviation body has said the incident involved a Saudi Airlines Airbus A320-214 as it moved towards the disembarkation terminal at Dubai International Airport. The flight had departed from Jeddah's King Abdulaziz International Airport earlier that morning.
According to the recently released report into the incident, the GAA has said the operator of one of the hoses selected a high pressure setting on the fire engine's turret, in order to form a traditional arc over the jet as it taxied to a halt.
However, a technical problem with the hose meant it would not properly respond to its remote controls and, as such, it did not respond as the operator intended.
As the high pressure water became directed towards the jet, it caused the left forward over-wing emergency exit hatch to open and then a series of safety measures were brought into effect. The hatch opened inward, falling into the cabin, resulting in a safety slide being deployed.
The safety slide triggered a master alarm, alerting the flight crew to the incident and halting the plane. As a result, one passenger sitting next to the hatch in a window seat was injured, though not severely. They received some immediate medical attention but then proceeded with their journey.
In a statement to the local news outlet, Dubai International Airport has said it has reviewed its procedure for water cannon salutes in the wake of the incident.
"Dubai Airports confirms that the mechanical failure of the water turret controller on one of its fire trucks resulted in the deployment of an over wing exit chute on an arriving aircraft in September last year," the statement read.
"Immediately following the incident, and working with the vehicle manufacturer and regulatory authorities, Dubai Airports conducted a thorough inspection of its fleet of fire trucks and reviewed its water salute procedures to ensure the fault was not in evidence elsewhere and to prevent any future recurrence," the airport said.