Watch: Dutch PM Tells Trump 'No!' and That He Is Wrong on Trade
Dutch Prime Minister Mark Rutte has dispensed with diplomatic niceties during a joint press conference with U.S. President Donald Trump.
The routine White House discussion with reporters took a slightly passive-aggressive turn as Trump extolled the virtues of his plan to slap tariffs on steel and aluminum coming into the U.S. from the European Union.
Trump said he would discuss the dispute with EU officials before saying: "If we do work it out, that'll be positive, and if we don't, it'll be positive also because…" before Rutte interjected, saying, "No!"
"Well, just think about those cars that pour in here, and we'll do something, right?" Trump replied.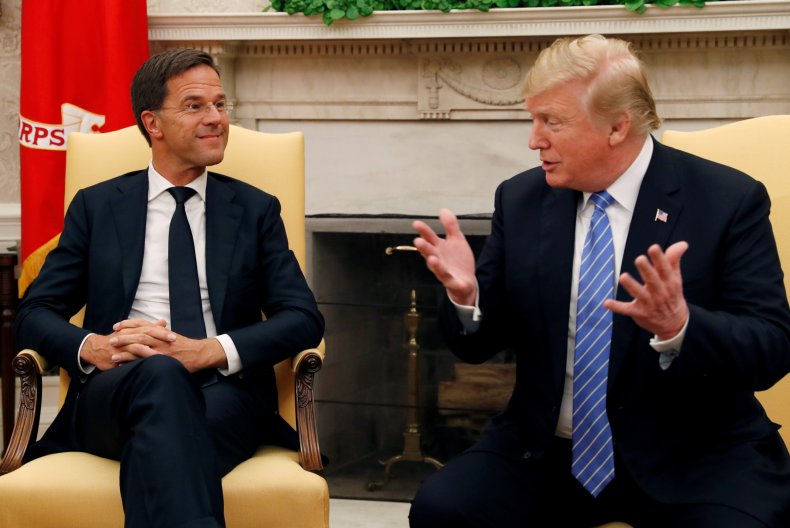 But Rutte was not having it and said through gritted teeth, "It's not positive." He added, "We have to work something out."
Trump then moved to shake the prime minister's hand and the awkward interaction was over.
It showed the level of discontent among European leaders with Trump's trade move, which he is threatening to apply to cars. The EU has threatened to retaliate with tariffs worth $294 billion on a number of U.S. exports.
In a paper released this week, the European Commission said Trump's tariffs would be "self-defeating and would weaken the U.S. economy.
"The European Union would therefore caution the United States against pursuing a process which could result in yet another disregard of international law, which would damage further the reputation of the United States and which the international community cannot and will not accept," the EU report said.
There is domestic concern, too, with the U.S. Chamber of Commerce criticizing how Trump handled global disputes. It said that the tariffs he wants to impose could hurt the American economy. Trump is also threatening to impose tariffs on vehicles.
The U.S. Chamber of Commerce is a traditional ally of Trump's Republican Party and said the White House is risking a global trade war.
Chamber of Commerce chairman, Tom Donohue, said in a statement: "The administration is threatening to undermine the economic progress it worked so hard to achieve. We should seek free and fair trade, but this is just not the way to do it," Reuters reported.
Trump has also issued a veiled threat at the World Trade Organization (WTO), saying that if the U.S. is not treated properly, "we'll be doing something."
"The WTO has treated the United States very, very badly and I hope they change their ways," Reuters reported the president saying. Axios had reported earlier that Trump's administration was going to legislate to raise tariffs at will, which violates WTO rules.
U.S. Treasury Secretary Steven Mnuchin refuted claims that Trump wanted to withdraw the U.S. from the international trade body.