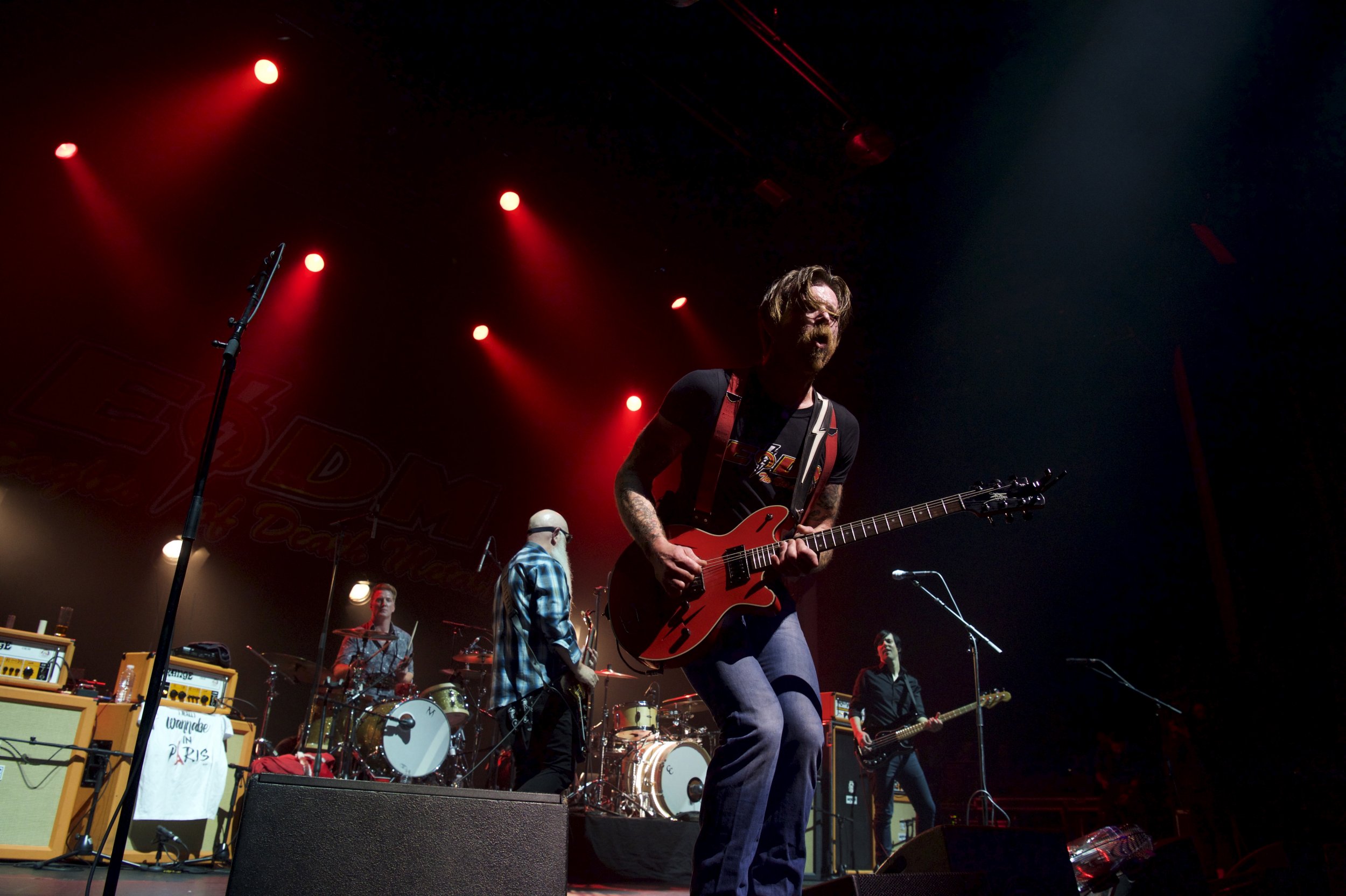 U.S. rock band Eagles of Death Metal went down a storm in a triumphant return to Paris on Tuesday night, three months after its concert in the city's Bataclan music hall became one of several targets for Islamist militants in November 2015.
A total of 130 people were killed in coordinated shooting and bombing attacks across Paris on November 13; 89 died in the attack on the Bataclan alone. Eagles of Death Metal pulled out of its European tour after the attack. The band briefly returned to the stage in Paris three weeks later during a U2 concert, playing a handful of tracks with the headliners.
On Tuesday night, Eagles of Death Metal played a sold-out show at the Olympia concert hall, picking up where they left off three months ago, with survivors of the attacks, some with serious injuries, in attendance. The concert took place under intense security.
"Bonsoir Paris, we're ready for this!" frontman Jesse Hughes shouted, emerging on the stage in his trademark pink shades and bright red suspenders. The band played a full array of its hits, such as "Speaking In Tongues" and "Don't Speak (I Came to Make a Bang)," while Hughes also went up on his own taking requests from fans culminating in a groovy rendition of The Rolling Stones hit "Brown Sugar". The singer also unveiled a T-shirt on stage that read "I really wanna be in Paris," in reference to the band's song "I Really Wanna Be In L.A."
The gig has been hailed as a triumph in the French press, with Le Parisien commending the band for showing "pure rock 'n' roll attitude," also reporting that around 30 support staff, including psychologists, were at the gig to support survivors of the attacks.
Hughes made headlines for more controversial reasons in the lead-up to the show. Speaking to French broadcaster iTele on Tuesday about the events in November, a visibly emotional Hughes slammed French gun control laws, alleging that the attacks could have been prevented if attendees were armed.
"Did your French gun control stop a single f***ing person from dying at the Bataclan? And if anyone can answer yes, I'd like to hear it, because I don't think so," Hughes said. "I think the only thing that stopped it was some of the bravest men that I've ever seen in my life charging head-first into the face of death with their firearms."
Speaking to Le Figaro in an interview published on Tuesday, Hughes said he considered himself French "forever" and said that since the attack he had found "one big family".
The Bataclan venue is undergoing renovation and is due to reopen in 2016, with media reports that Eagles of Death Metal may be invited to be among the first acts to play there.