Watch: Ehang Reveals World's First Self-Piloting Passenger Drone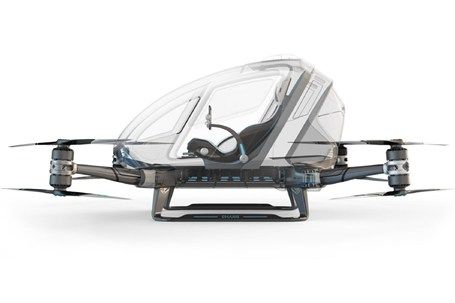 Chinese drone manufacturer Ehang unveiled what they believe to be the world's first self-piloting, passenger drone at the CES technology conference on Wednesday. The company claims it will transport a single person to any destination on Google maps.
The 200KG Ehang 184 is an electric powered device, lifted by four arms and eight propellers and will take full control of your flight, programmed through an app, taking care to avoid buildings at an average speed of 100km/h.
Should you experience any problems during your trip, which can last a maximum of 23 minutes, the company has included a fail-safe system, ensuring that in case of any component malfunction, your drone will immediately land in the nearest possible area.
Speaking to Wired, Ehang CFO, Shang Hsiao, says the he expects the 184 to be available within four months, at a cost between $200,000 and $300,000. The price may seem steep, but your journey does include air-conditioning and in flight WiFi.
Eventually, Ehang hope to introduce "command centres" filled with people who can monitor your flight and take over should an emergency arise, ensuring that you will never be required to pilot your craft.
"We will monitor, it's a whole process, all the way from the takeoff to the landing," says Hsiao. "They don't need to do anything at all."