Watch Elizabeth Warren's Viral Response to Men Against Same-Sex Marriage: 'Just Marry One Woman... Assuming You Can Find One'
Democratic presidential candidate Sen. Elizabeth Warren of Massachusetts had harsh words for those against marriage equality at the CNN LGBTQ Equality Town Hall on Thursday night.
In a clip now going viral, Morgan Cox, the chair of the Human Rights Campaign's board of directors, asked Warren about what she'd say to someone against same-sex marriage.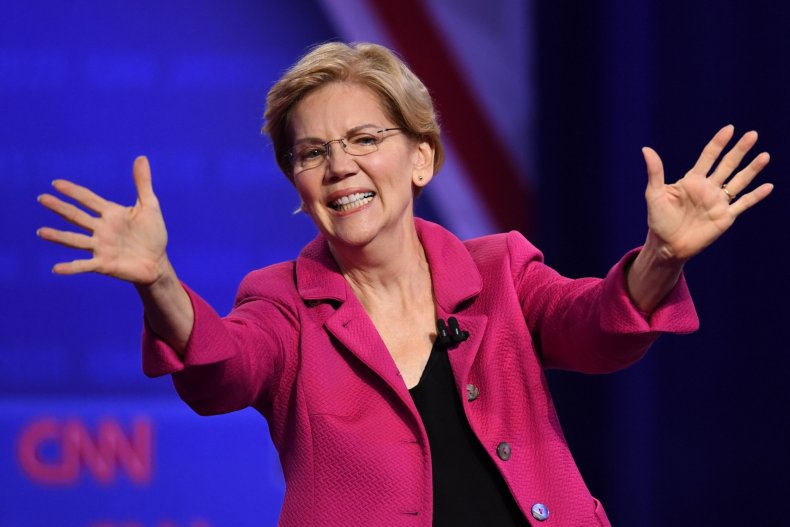 "Let's say you're on the campaign trail," Cox said.
"I have been!" Warren replied, to laughs.
"A supporter approaches you and says, 'Senator, I'm old-fashioned, and my faith teaches me that marriage is between one man and one woman.' What is your response?" Cox continued, affecting a southern accent for the hypothetical supporter.
"Well, I'm going to assume it's a guy who said that. And I'm gonna say, 'Then just marry one woman. I'm cool with that,'" Warren replied, to rapt applause. She then paused, and continued, "Assuming you can find one."
The CNN Town Hall featured back-to-back interviews between nine of the 2020 Democratic candidates for president. Warren started her segment by declaring "We're gonna have some fun tonight!"
The Town Hall had a number of memorable incidents. Shortly after Mayor Pete Buttigieg of South Bend, Indiana was introduced, protesters waved transgender pride flags with "We Are Dying" written across them, and chanted "Trans people are dying," and "Trans lives matter," in response to the many deaths of trans women of color in 2019.
"It's all right, it's all right," Anderson Cooper said in an attempt to quell the protest. "There's a long history in the gay, lesbian and transgender community of protest, and we applaud their protest."
Buttigieg also addressed the protesters, saying that he wanted to put an end to the murders of trans women.
"I would like to believe everyone here is committed to ending that epidemic," Buttigieg said.
CNN anchor Chris Cuomo was the subject of a major gaffe. In response to Sen. Kamala Harris of California announcing her pronouns as "she, her and hers," Cuomo replied "Mine too."
Later, Cuomo apologized on Twitter, for what many saw as a transphobic joke.
"PLEASE READ: When Sen. Harris said her pronouns were she her and her's, I said mine too. I should not have. I apologize. I am an ally of the LGBTQ community, and I am sorry because I am committed to helping us achieve equality. Thank you for watching our townhall," Cuomo wrote.
Of the major Democratic presidential candidates, three did not appear at the CNN Town Hall. Sen. Bernie Sanders of Vermont previously agreed to come, but cancelled a number of campaign events after his recent heart attack. Rep. Tulsi Gabbard of Hawaii and businessman Andrew Yang declined to appear, citing scheduling conflicts.
The event was moderated by CNN hosts Dana Bash, Anderson Cooper, Chris Cuomo, Don Lemon and Nia-Malika Henderson, and took place at the Novo in Los Angeles. In addition to Warren, Buttigieg and Harris, the other candidates who appeared were Sen. Cory Booker of New Jersey, former Vice President Joe Biden, former Rep. Beto O'Rourke of Texas, Sen. Amy Klobuchar of Minnesota, former Housing and Urban Development Secretary Julián Castro and businessman Tom Steyer, founder of the Need to Impeach campaign.