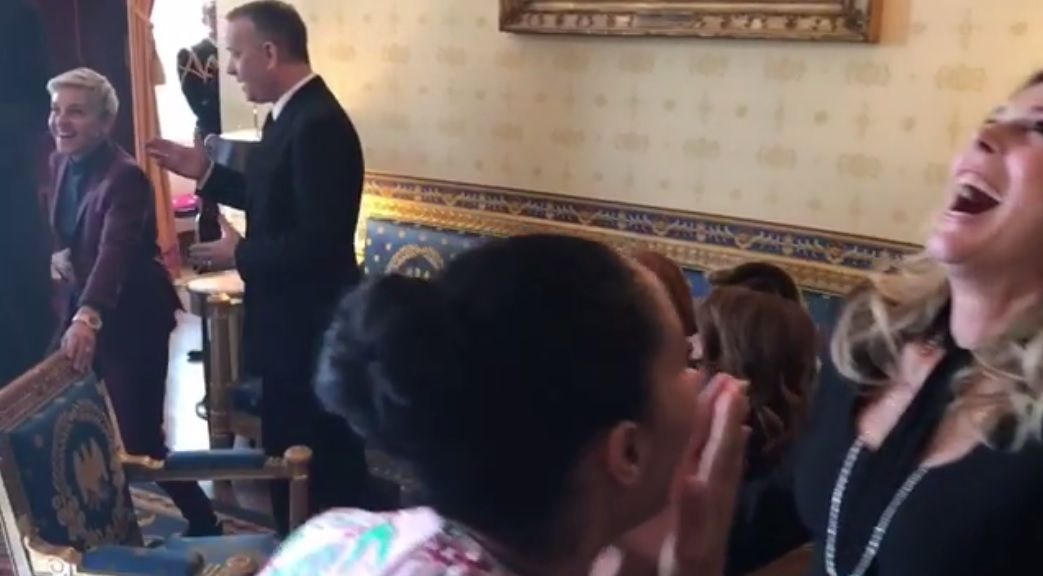 With just weeks to go until her friend and Ellen regular Barack Obama vacates the Oval Office, Ellen DeGeneres made the most of her visit to the White House Tuesday.
The talk show host pulled off a mannequin challenge that was so star-studded it could rival her famous Oscars selfie in 2014.
The popular viral video trend sees participants freeze in various poses while a camera pans around the room. (The reality TV stars Rob Kardashian and Blac Chyna made headlines earlier this month by creating a video while Chyna was in labor with their daughter.)
DeGeneres, who received the Presidential Medal of Freedom from Obama, convinced stars including her wife Portia De Rossi, Tom Hanks and Microsoft billionaire Bill Gates to take part in the challenge. Others featured include Bruce Springsteen, Hanks's wife Rita Wilson, Michael Jordan, Kareem Abdul Jabbar and Diana Ross.
Ross's daughter, Black-ish actor Tracee Ellis Ross (seen laughing with Wilson), also posted a video on her Instagram page.
DeGeneres's Oscars selfie was the most-retweeted post on Twitter in 2014, gaining more than 3 million shares.