Watch: Emotional Jimmy Kimmel Questions Trump's Mental Health Over Lack of Gun Control After Florida Shooting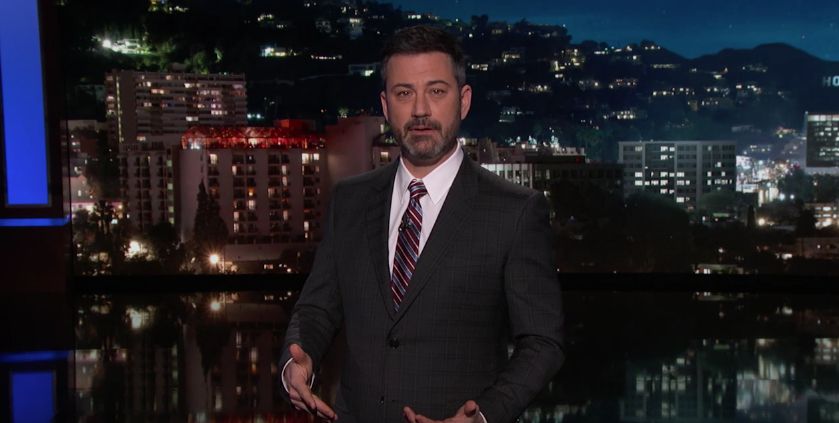 Jimmy Kimmel gave another passionate, tearful monologue Thursday night in response to Wednesday's school shooting in Parkland, Florida, which claimed the lives of 17 people.
You'll remember that Kimmel was overcome with emotion in October after Stephen Paddock opened fire at a country music festival in Kimmel's hometown of Las Vegas, killing 58 people.
"This is another sad day in America, another senseless shooting," Kimmel began on Thursday's Jimmy Kimmel Live.
Kimmel then laid into President Donald Trump for not pursuing more stringent gun control in the U.S.
"Tell your buddies in Congress, Paul Ryan, Mitch McConnell, Marco Rubio, that we need real laws that do everything to keep assault rifles out of the hands of people who are going to shoot our kids," Kimmel said. "Go on TV and tell them to do that."
Addressing Trump directly, Kimmel continued: "That is a perfect example of the common sense you said you were going to bring to the White House. It's time to bring it. Tell those congressmen and lobbyists who infest that swamp you said you're going to drain, these allegedly Christian men and women, who stuff their pockets with money from the NRA [National Rifle Association] year after year, to do something now."
Referring to the topic of gun control, Kimmel said: "Don't you dare let anyone say it's too soon to be talking about it. You said it after Vegas, you said it after Sandy Hook. You said it after these eight, now, fatal shootings we've had in this country this year. Children are being murdered."
The comedian scolded Trump, saying that the president has "literally done nothing" to prevent gun violence, nor implemented effective change to help the mentally ill.
"You've done worse than nothing," Kimmel said. "You say this is a mental health issue, but one of your first acts as president, Mr. Trump, was to rollback the regulations that were designed to keep firearms out of the hands of the mentally ill. You did that. Your party voted to repeal the mandates on coverage for mental health."
Kimmel fired a parting shot, saying: "I agree this is a mental illness issue. Because if you don't think we need to do something about it, you're obviously mentally ill."