Watch Emotional Moment Woman in Exoskeleton Walks for First Time in 5 Years
A video of a woman standing up by herself after five years of being paralyzed has gone viral on the internet, leaving viewers emotional and inspired.
In the TikTok video, Anabel Dominguez can be seen standing up and walking with the help of a robotic exoskeleton only available to hospitals.
As she explained on Instagram, Dominguez has muscular dystrophy, a group of hereditary diseases characterized by progressive wasting of muscles. This was first diagnosed during a routine check up when she was just five years old, but didn't affect her until her teenage years.
The video which has so far received over 327,600 likes, 1685 comments and 1218 shares since Saturday, features a caption in Spanish that says: "After five years of not being able to stand by myself, this was a gift from the universe."
According to data published by the Christopher & Dana Reeve Foundation, approximately 5.4 million people live with paralysis in the United States, the same number of people as the combined populations of Los Angeles, Philadelphia, and Washington D.C.
The video left TikTokers in tears. One, Ricky4real commented: "Wow awesome congratulations." Jordron14 said: "It's amazing how technology can help us. I love how your face lights up."
Inma Benítez added: "Wow, that's what our taxes should be for, for technology and science, to help everyone."
Another emotional user, A.J Martín wrote: "you have me crying, how cute is your little face." And Anita andaluza atelier said: "Ohhh I cried with you, how exciting the video, I'm happy for you."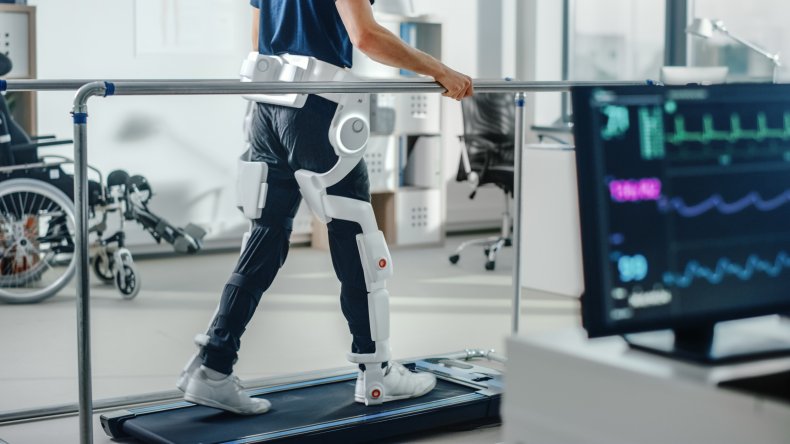 GemayAdan shared their own similar experience: "I have multiple sclerosis and my balance and walking are very affected... this is a marvelous spirit champion."
Cristinagarcivi said: "Things that only people who have lived in a wheelchair will understand."
Another user, Bea Moreno commented: "My goodness, I was moved... I would pay double my taxes to see those faces of emotion."
Rocio Carreon wrote: "I was filled with tears of pride and happiness... only you know how difficult it was to get to this point."
And Alison Indira Ohara Funez pointed out: "And we who can get up, do it even reluctantly. Let's be more grateful with life! congratulations queen."
JhonyOk2 said: "I am speechless thanks to you and to all those who have been able to do this wonder to see the smile that has no words to describe."
Mariana Hdez said, "What a blessing," Anapauco adding: "A miracle from God."