Watch: Emperor Penguins Take Funny Selfie on Camera Left in Antarctica
Two members of the largest penguin species unwittingly recorded a close and personal video by themselves on a camera left in the Antarctic snow by humans.
The pair of Emperor penguins, a species whose colonies are scattered around the South Pole, came to feature in the comical footage by virtue of their own curiosity about the goings on near a large Australian-led research facility. The species is the tallest and heaviest of the 18 surviving kinds of penguin in the Antarctic—a major area of research for conservationists and scientists in the southern hemisphere.
Related: Watch this Siberian tiger appear to flee the cave of a sleeping female leopard
The short clip begins with a ground-level shot of the Auster Rookery recorded on a camera left on the ice by Eddie Gault, an expeditioner at Australia's Mawson research station. A group of penguins wanders into frame in the distance, before they are upstaged within seconds. An inquisitive member of their own flock trots into the shot for a close-up of his feet and, captivated by the strange object, kicks the camera over, flipping its lens upwards to focus on its face.
What follows is what researchers at the Australian Antarctic Division describe as a "penguin selfie," which has already been viewed more than 71,000 times on Facebook.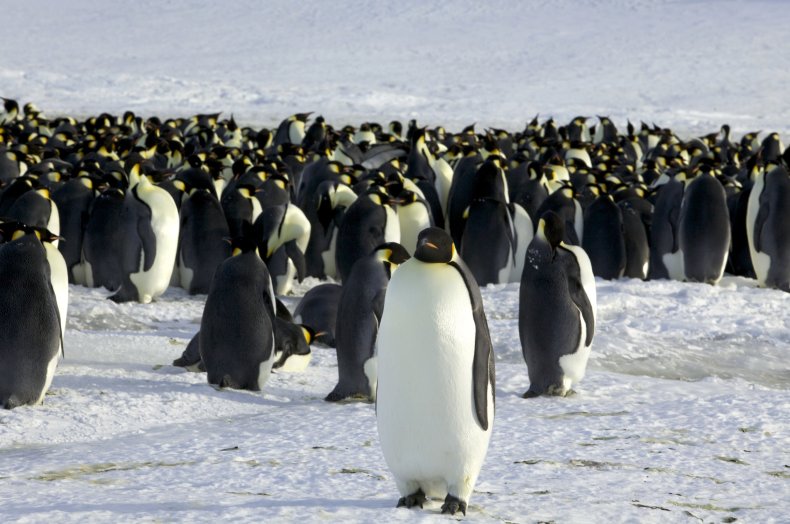 The flightless bird's head hovers above the lens, tilting across the frame in bewilderment at the ice-mounted item. A friend walks over, moments later, keen to help identify the source of its flockmate's fascination. The pair take turns leaning beak-first into extreme close-up shots in the creaking snow. The couple loses interest, stands up straight and start shaking their heads and bellies.
Penguins are rarely far from others of their kind as they often have to huddle for warmth in extreme cold. The Australian Antarctic Division has examined their behavior for a long time and has recordings of the sounds their chicks make and of Emperor penguins sneezing.