Watch Every DNC Performance From Jennifer Hudson, Billie Eilish and Others
Night three of the Democratic National Convention saw performances from Billie Eilish, Jennifer Hudson, and Prince Royce, along with Kerry Washington taking M.C. duties.
The star-studded event also featured speeches from the last Democratic president, Barack Obama, the last Democratic presidential nominee and former Secretary of State, Hillary Clinton, and current Democratic candidate, Joe Biden's running mate Kamala Harris.
Former Rep. Gabby Giffords, Rep. Nancy Pelosi, and Sen. Elizabeth Warren were among the other speakers.
Grammy-winner and pop sensation Billie Eilish began trending when she gave a rousing anti-Trump speech in support of Biden.
"You don't need me to tell you things are a mess," Eilish began. "Donald Trump is destroying our country and everything we care about. We need leaders who will solve problems like climate change and COVID, not deny them; leaders who will fight against systemic racism and inequality."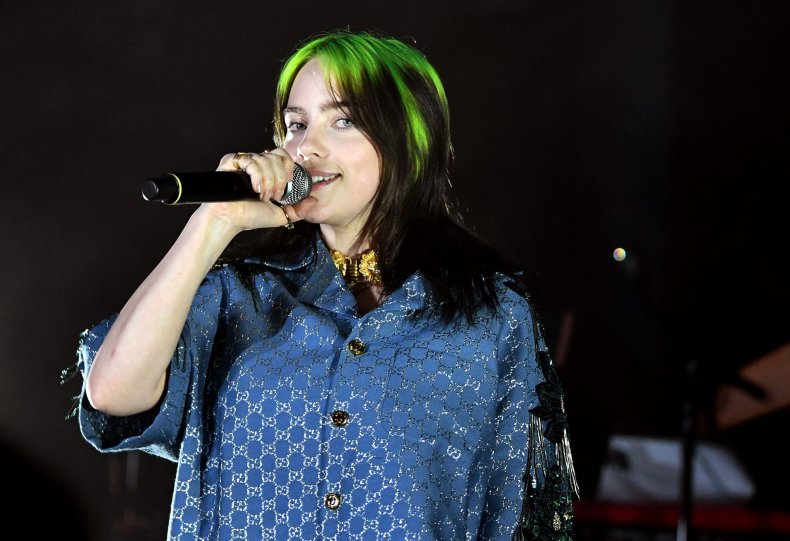 "It starts by voting against Donald Trump and for Joe Biden," the "Bad Guy" singer continued. "Silence is not an option and we cannot sit this one out. We all have to vote like our lives and the world depend on it, because they do. The only way to be certain of the future is to make it ourselves. Please register. Please vote."
The 18-year-old then performed her song, "My Future."
Here is every performance from DNC 2020
Billie Eilish
Eilish delivered an emotional performance of "My Future" along with her brother and musical collaborator Finneas.
Jennifer Hudson
Jennifer Hudson closed out night three of the 2020 DNC with a moving version of "A Change Is Gonna Come" by Sam Cooke.
The Oscar-winner belted the lyrics: "It's been a long, a long time coming, but I know a change's gonna come, oh, yes, it will."
Hudson previously appeared at the DNC in 2008 to sing the national anthem.
Prince Royce
"Deja Vu" singer Prince Royce performed a bilingual version of Ben E. King anthem "Stand By Me."
"Mi gente, let's stand by each other and don't forget to vote this November," he said at the end of his performance. "Together we can make a change."
Billy Porter and Steven Sills
Billy Porter closed the first night of the 2020 DNC a powerful protest anthem, a rousing rendition of Buffalo Springfield's "For What It's Worth."
The Pose star was joined by the song's writer Stephen Stills on guitar and the pair performed against green-screened images of Black Lives Matter protesters.
Maggie Rogers
On night one, Maggie Rogers appeared to perform a special acoustic rendition of her song "Back in My Body."
The singer-songwriter's performance was filmed on the rocky coast of Maine as images and clips of essential workers and medical professionals in the age of coronavirus were played.
Leon Bridges
Leon Bridges gave a moving performance of his new song "Sweeter" alongside Terrace Martin.
John Legend
John Legend closed out the second night of the DNC with a performance of his song, "Never Break."
On Twitter, Legend posted about his performance, writing: "Thanks to the @DemConvention for asking me to close out a powerful night with my new song #NeverBreak. The song is about love, hope and resilience, and I think we could all use some of that right now."