Watch: First Trailer for 'Patriots Day' About Boston Marathon Bombings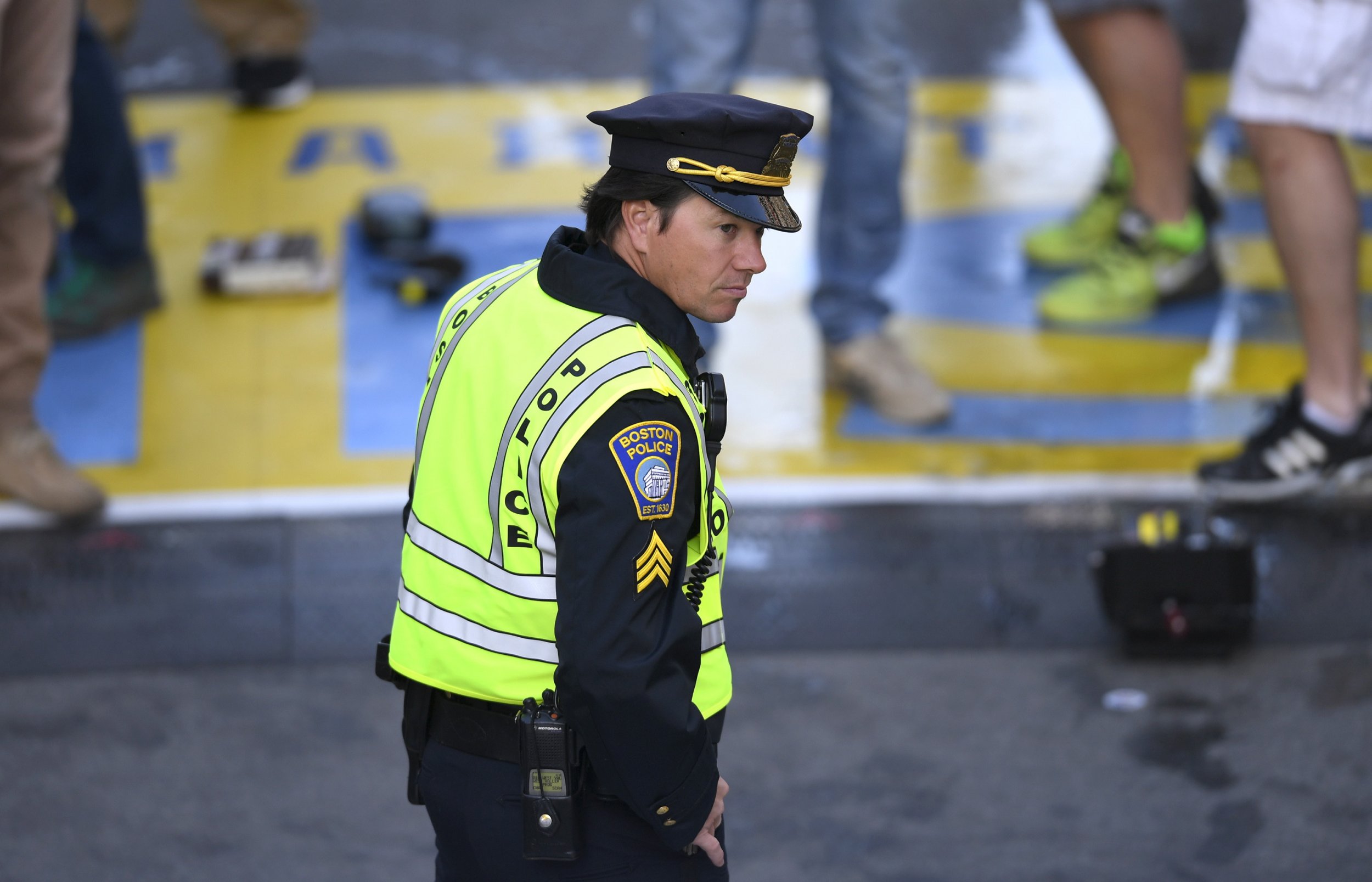 Bostonians call it "Marathon Monday," the day the annual 26.2-mile Boston Marathon is held. It's also Patriots Day, when state residents simultaneously commemorate the anniversary of the American Revolutionary War battles of Lexington and Concord.
Now, the latter is taking on another meaning, as the title of an upcoming Mark Wahlberg movie about the April 15, 2013 bombings that killed three people and injured 264 near the finish line of the Boston Marathon.
Last June, a judge sentenced the surviving attacker, convicted bomber Dzhokhar Tsarnaev, to death. His brother, Tamerlan, died four days after the bombings. The siblings planted two homemade pressure-cooker bombs near the marathon's finish line, killing Martin Richard, Lingzi Lu and Krystle Campbell. They also were responsible for the murder of a Massachusetts Institute of Technology police officer, Sean Collier.
CBS Films released a two-minute trailer for the film this week. It shows Wahlberg as the fictional Police Sergeant Tommy Saunders leaving his home on the morning of April 15, 2013, to work as a security guard at the marathon, followed by clips of the race, some of which were filmed at the 2016 event, featuring runners slapping spectators' hands and a fan wearing a Boston Red Sox hat along the 26.2-mile route. Then, the bombs detonate.
The film chronicles the events of that day, weaving in different viewpoints, including those of Special Agent Richard DesLauriers (Kevin Bacon), Police Commissioner Ed Davis (John Goodman), Sergeant Jeffrey Pugliese (J.K. Simmons) and nurse Carol Saunders (Michelle Monaghan).
The film is set to be released in Boston theaters on December 21, and nationwide on January 13.
In September, Wahlberg showed the first movie trailer to an audience at the Toronto International Film Festival. The actor, who is also the film's producer, told the crowd he had mixed feelings about signing on to the movie because he understood that the city's residents had similar feelings about the film, according to The Boston Globe. But ultimately he decided it wasn't too soon for the movie.
Meanwhile, HBO on November 21 will begin showing a new documentary titled Marathon: The Patriots Day Bombing, which details the challenges faced by survivors of the attack. Another Hollywood production chronicling the bombings, Stronger, finished filming in the spring. Set to show in theaters next year, it is based on a book of the same name by survivor Jeff Bauman and Bret Witter. Bauman, who is played by Jake Gyllenhaal, lost his legs in the 2013 attack.