Watch: Florida Man Snatches Golf Ball From Atop Alligator's Tail
It's no secret that Florida has lots of alligators, and that there's no shortage of golf courses in the state. Put the two together, and it has the recipes to give "Florida Man" stories a whole new twist, like this one from Cape Coral over the weekend.
A video surfaced in Fort Myers that showed a man approach an alligator, gently reach out to grab a golf ball from the reptile's tail, and then split away like he'd just toilet paper-rolled the high school principal's house.
The gator looked surprised, and it went flailing excitedly, or nervously, into the nearby golf course pond.
Here's the video of a Florida man sneaking up on a gator to snatch a golf ball that somehow landed there.
"He's gonna whip you with that tail, dude," a man behind the video could be heard as another man approached the alligator, with a golf ball clearly resting upon its tail.
This event happened Sunday at the Coral Oaks Golf Course in Cape Coral, a southwest Florida city that abuts Fort Myers, just a few miles from the Gulf of Mexico.
The area has sub-tropical climate all year long, which lures golfers and northerners on a yearly basis.
Gators on Florida golf courses? Well, that's nothing new, even this time of year.
Just last month, a gigantic alligator was seen strolling across a Naples golf course—about 45 minutes south of Fort Myers— in this video.
The mammoth-sized gator at the Valencia Golf & Country Club during Tropical Storm Eta was so large that viewers, and locals, questioned whether or not it was even real.
David Steen of the Florida Fish and Wildlife Conservation Commission said the Naples gator was typical in size when it came to Florida's well-known reptile.
"It's an iconic species and conservation success story," Steen told WCVB in November 2020 as Eta moved through the area. "But in short, there's nothing unusual about this alligator or the video."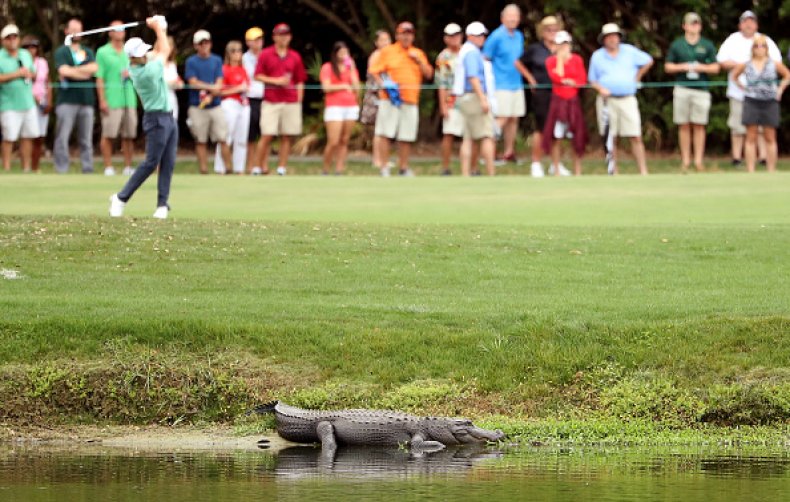 Then there was this time in 2017 when Cody Gribble, at the Arnold Palmer Invitational in Orlando, walked gingerly toward an alligator and tapped it on the tail, startling the 8-foot reptile into the nearby water.
"I didn't even realize it was on video," Gribble said that day. "Gator looked like he needed some exercise, I don't know. He was sitting right there in the way and I guess I was struggling today, I wanted to get some adrenaline going somehow."
Gribble said back then that it might be "frowned upon," but that he needed a jolt.
"It's probably frowned upon but I wasn't too worried about it at the time," Gribble said. "It's like a jolt, it's quick, you know, they're not going to catch you a couple steps down."