Watch: Fox News Guest Raises John McCain Photo For Trump to See, Gets Shut Down By Anchor
A guest on Fox News on Sunday, unannounced, raised a photo of late Senator John McCain to show President Donald Trump, leading an anchor of the conservative-leaning network to call it "off the rails" and end the segment.
The jab at Trump on the president's favorite news network occurred during a discussion before a town hall featuring Democratic presidential candidate Kirsten Gillibrand. Fox News anchor Leland Vittert slammed Democratic candidates and asked radio host John Kobylt to comment on the Trump campaign's supposed strategy to define the Democratic nominee as a socialist.
"Oh that's a great commercial for Trump to run about a million times next year isn't it," Kobylt said. "This stuff doesn't play outside of San Francisco, that's a cult meeting inside that conference call."
Just as Kobylt began talking, another guest on the show, radio host Chip Franklin, held up a photo of McCain over most of his face.
Visibly bothered, Vittert confronted Franklin.
"Chip, I'm trying to figure out why you're putting John McCain's face up," Vittert said.
"In the off-chance the president's watching," Franklin replied. "Real heroes out there, Pete Buttigieg, others that have served this country, just a thought."
"Alright this, this went off the rails," Vittert said, throwing his hands up. "Alright Chip, John thanks a lot. John we'll have you back to finish that thought. See you guys soon."
Fox News then switched to content on the 75th anniversary of D-Day.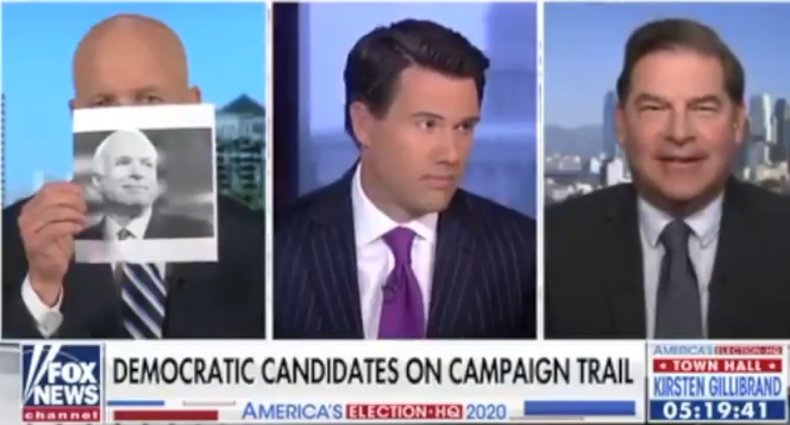 Trump could have seen the live show, given he frequently watches Fox News.
Franklin showed McCain's photo in light of the White House requesting last month that the Navy "minimize the visibility" of USS John S. McCain—a warship named after the senator who was a prisoner of war in Vietnam—so Trump would not have to see it while visiting Japan. The Navy told NBC News that it got the request and did not follow it. Trump said he had no hand in the request.
"To me, John McCain—I wasn't a fan," Trump said last week. "But I would never do a thing like that."
Trump has not let go of his disdain for McCain, who cast a deciding vote against a White House-supported plan to repeal most of Obamacare, and died last August of brain cancer.
Franklin on Sunday shared the clip from the segment on Twitter along with an explanation of why he flashed McCain's photo.
"Trump chief of staff Mick Mulvaney said Sunday that it wasn't 'unreasonable' to ask that the USS John S. McCain be hidden during Trump's Japan visit last week," Franklin tweeted. "Trump doesn't follow me, but I wanted him to see the hero he will never be. @realDonaldTrump #Resist"