Watch: Giant Alligator Performs Multiple Death Rolls to Escape Florida Officers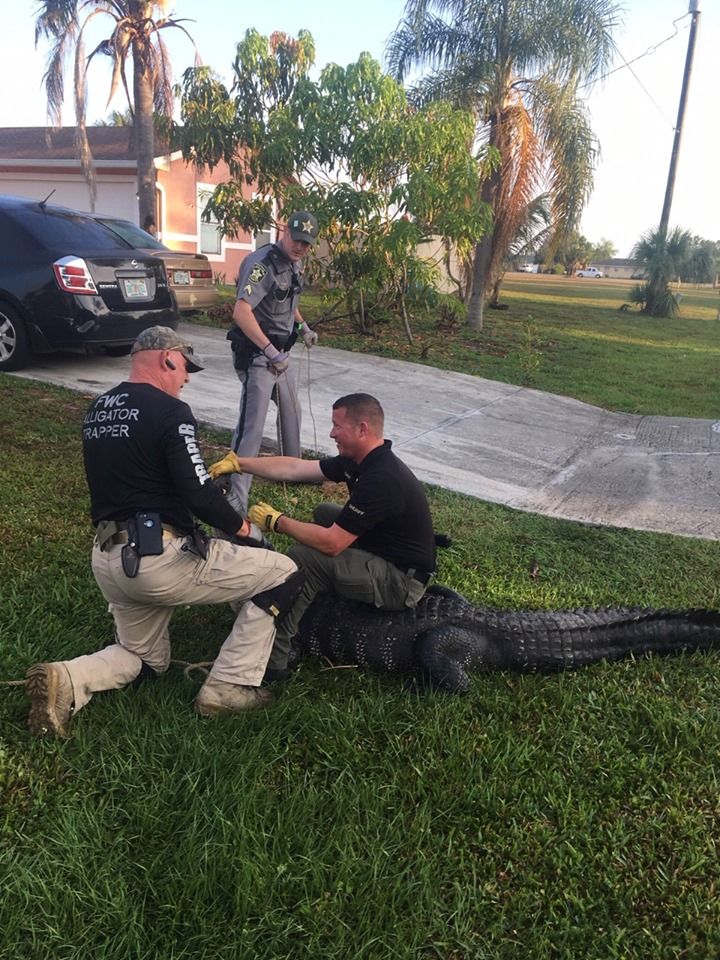 Footage captured by law enforcement in Florida has shown the moment a giant, 9-foot-long alligator performs at least a dozen so-called death rolls, attempting to evade capture.
The video, just under a minute long, was shared by Collier County Sheriff's Office, showing officers from the local Agricultural Unit as they removed the male alligator, found near a bus stop where children were waiting for school.
In the clip the officers can be seen leading the huge reptile by the mouth out of foliage where it was hidden, in a residential area. As it is dragged further out into to the open, the alligator can be seen spinning, numerous times. The instinctive reaction, known as a death roll, allows alligators to successfully incapacitate their prey but it is also a response to danger.
Talking about how to avoid serious injury from an alligator, or even being killed by one, Ron Magill, a wildlife expert and communications director at Zoo Miami, told Good Morning Americain 2016 that the animals rolled in attempt to try and break pieces off their attackers, or prey.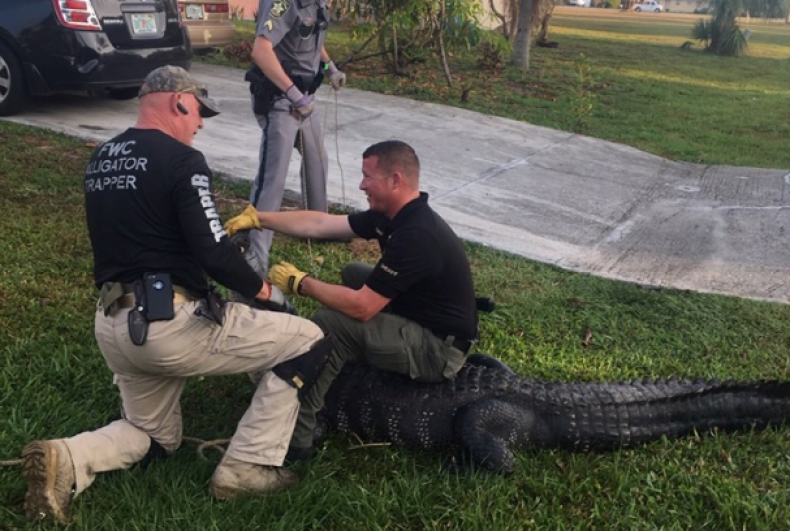 "The thing you want to stop them from doing is turning. They'll grab, and they'll start rolling to try to break off pieces to eat, and that's the key thing," Magill said. "You've got to hold on as hard as you can. And the other is to try to poke your fingers in their eyes. That's easier said than done in that situation, of course, but that's the best chance you have," he added.
Collier County Sheriff's Office wrote in a statement on Facebook that officers were called to deal with the gator in the residential area of Golden Gate City. Children were waiting at a nearby bus stop when the reptile was spotted. "But we're pretty sure this critter wasn't heading to school," the county's sheriff's office added in a droll aside.
Trapper Ray Simonsen, Cpl. Jerrod Carver from the Agricultural Unit and Cpl. Edward Costello were involved in the capture, and none of the officers were harmed in the removal.
It appears that the officers of Collier County sheriff's department are frequently involved in capturing alligators. Just eight hours later the office's Facebook page posted pictures of an 8-foot alligator captured in the nearby Immokalee area. The animal, recovered from a garden, was captured single handedly by an officer in around 20 minutes. "All in a day's work at CCSO," the office quipped.