Watch: Gorilla Gives Birth to First Son Moke at Smithsonian Zoo
The Smithsonian National Zoo's 15-year-old gorilla Calaya has welcomed her first son into the world. Moke, meaning "little one" in the African Lingala language, becomes the first male western lowland gorilla born at the zoo in nine years.
The new arrival is a joyous occasion for a species whose wild population has been in decline in recent years due to disease and poaching, the zoo explained.
"The birth of this western lowland gorilla is very special and significant, not only to our zoo family, but also to this critically endangered species as a whole," said primate curator Meredith Bastian.
The Washington, D.C. zoo released a video of the birth, in which Calaya can be seen delivering her own baby and holding Moke close, cleaning his head and face with tender kisses.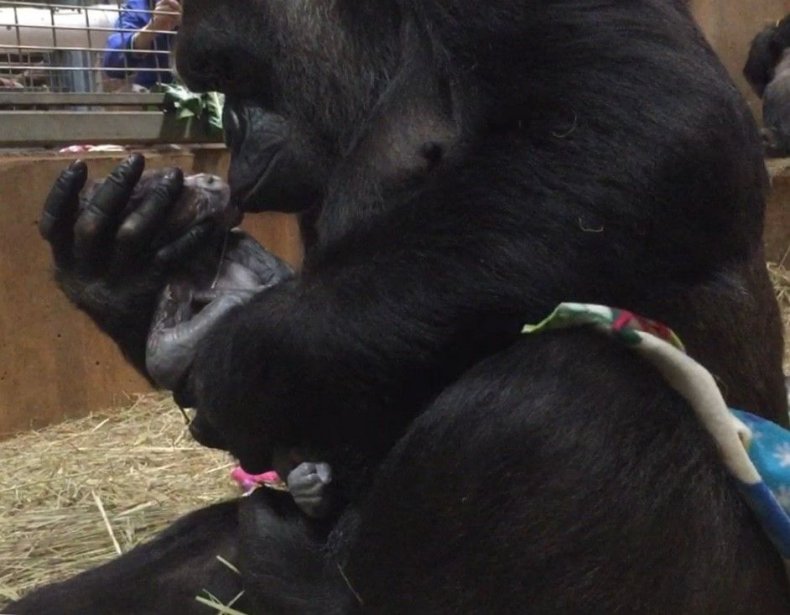 Since Calaya's pregnancy was confirmed using a standard human pregnancy test in fall 2017, staff have been getting ready for Moke's arrival. Luckily, the pregnancy process for western lowland gorillas is not so different from their human cousins.
Calaya was taught to urinate on command to allow hormone analysis and to manipulate her breasts to assess lactation and allow nutrient evaluations. Calaya even voluntarily took part in ultrasound scans so that staff could chart Moko's development and track his progress.
"The primate team's goal was to set Calaya up for success as best we could, given that she is a first-time mother. Doing so required great patience and dedication on the part of my team, and I am very proud of them and Calaya," Bastian said.
Native to the forested and swampy areas of central Africa, western lowland gorillas have seen their population fall by around 60 percent over the last 25 years. The International Union for Conservation of Nature says that the species is critically endangered; the most severe classification before extinction. The next step down is extinction in the wild.
Because they live deep in remote and heavily forested areas, it is difficult to estimate the total numbers of gorillas in the wild. The World Wildlife Foundation believes there are up to 100,000 individuals remaining.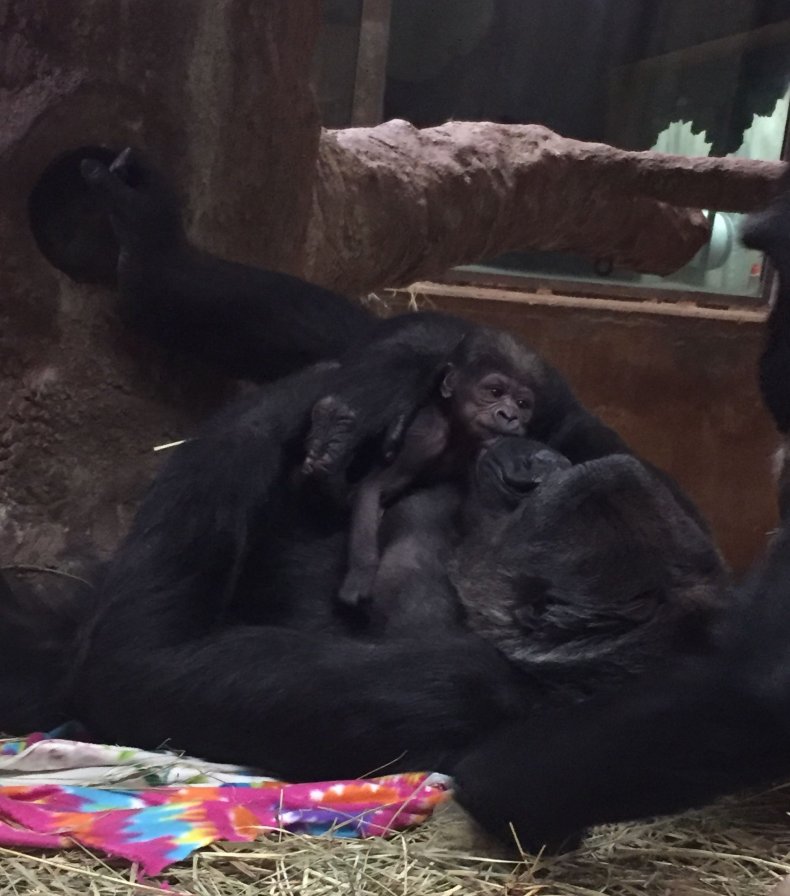 The Smithsonian's five-gorilla troop is now made up of Moke, Calaya, 26-year-old father Baraka, another adult female called Mandara and a sub-adult female called Kibibi. The zoo says its troop is similar to those found in the wild.
Mandara, who has herself raised six children, was being prepared as a foster mother in case Calaya was unable or unwilling to look after Moke, as first-time gorilla mothers sometimes are. However, the zoo said that all signs so far point to a healthy mother-son relationship.
"This infant's arrival triggers many emotions—joy, excitement, relief and pride that all of our perseverance in preparing Calaya for motherhood has paid off," maternal training leader Melba Brown said. "We will provide support to her if need be, but I have every confidence that Calaya will be a great mom to Moke. I am excited to see how he will fit into the group dynamic. There are a lot of different personalities in this family troop, but they all work well together."